Best Bee Smokers: Top Picks and How to Choose the Ideal One
As beekeepers, we pick up skills that help us manage a colony without getting stung every other day. We move gently, learn how to behave around bees, and choose the right time to inspect our hives.
Yet, there's no denying that some calming smoke goes a long way in keeping us safe. But how do you pick a reliable smoker?
In this post, I'll review some of the best bee smokers out there. I'll also share five important factors to help you decide.
The Top 7 Bee Smokers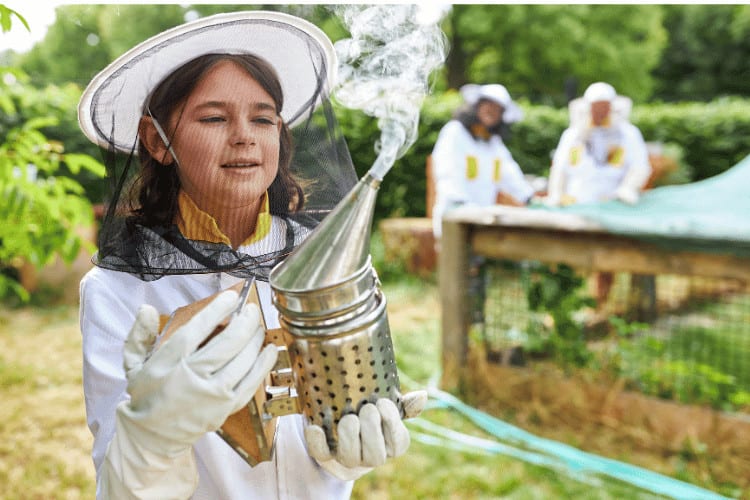 Let's get right in and check out some of the best smokers you can find!
The Bee-V001 is one of the most popular smokers on the market right now, so I just had to check it out.
Let me tell you that the frame quality doesn't disappoint at all. It's made from 201 stainless steel. Now, that's an affordable but still sturdy and versatile alloy—so much so that it's used for stuff like sinks and automotive trims.
Yet, I was a little upset to see users complaining about the bellows. Apparently, it's made from faux leather that tends to crack.
I haven't faced issues of that sort so far. But even if I do at some point, it won't be a deal breaker. I'd consider repairing the fabric since I love pretty much everything else about the smoker, from the mounting hook to the nifty bellows lock.
Before we jump to the pros and cons, I want to note that VIVO offers the Bee-V001 in two sizes: regular and large.
The canister has a 4-inch diameter either way. However, the main body on the large one is 8.8 inches rather than 7. When you add the nozzle into the equation, the overall height for the large and regular sizes is 12 and 11 inches, respectively.
In most cases, the regular one will do just fine, but I'll go over the smoker size recommendations in more detail later!
Pros:
It's made from a sturdy frame that handles prolonged smoking periods.
The VIVO customer support seems to be responsive and helpful.
It comes in two sizes to suit more beekeeping scales.
Cons:
The bellows might melt or crack at the bottom after a while.
While doing research for this buying guide, I came across the Honey Keeper's smoker and wondered why I never got around to trying it all these years.
All in all, it doesn't look so dissimilar to the VIVO Bee-V001 smoker.
In fact, if I were to put both on the ground and look at them from a distance, I would probably only be able to tell them apart with the "Honey Keeper" logo stamped on the nozzle. And you have to admit, that's a rather subtle visual difference.
Yet, the Honey Keeper seems to be slightly less popular than the VIVO and only comes in one size (11-inch). None of these points are serious issues, though. So, this smoker is a decent runner-up!
Pro tip: Don't forget to pull out the bottom disc and bend the leg-like prongs to boost the airflow. You'll find this feature on a lot of bee smokers, including this one.
Pros:
It's budget-friendly.
The perforated base is easily removable and can be elevated with prongs.
Not a lot of users complained about tears in the bellows.
Cons:
The lid might be a little hard to open and close.
If you want something even more budget-friendly than the Honey Keeper smoker, I'd recommend the Blisstime set.
Its price is comparable to the Honey Keeper. However, you don't just get a smoker here. Blisstime throws a 54-piece pellet pack into the bargain!
I would have liked to see an instruction manual or pamphlet included in the package to guide first-time users on using these pellets. After all, a beekeeper might need a newspaper starter or something similar to get the fire going.
However, at that price, I don't think we can be too fussy.
It's also worth noting that this model shares some of the nifty features (closing clips and disc legs) that we've seen on the VIVO or the Honey Keeper smokers.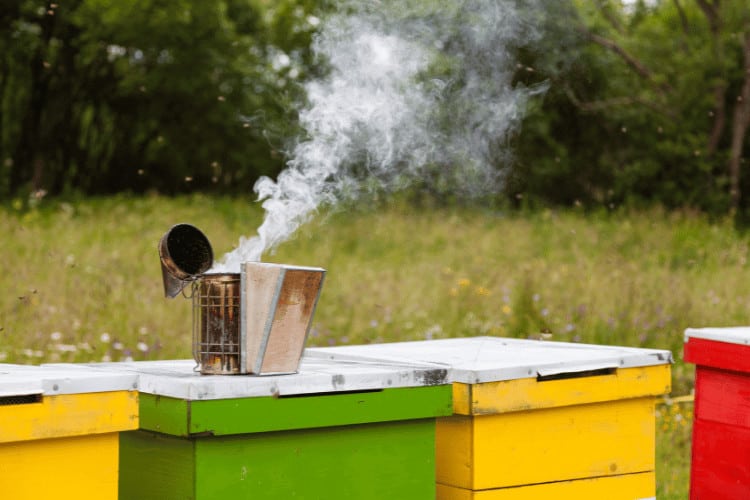 Pros:
With a large herbal pellet pack, the set provides a great bang for your buck.
The disc spacer can be propped up.
The bellow color (light green) can be more eye-catching than the typical beige/tan fabrics.
Cons:
No pellet instructions are included.
Some users didn't receive the pellet pack.
Most of the bee smokers you'll see on the market share the same nozzle design, which might not be everyone's cup of tea.
If you're not so keen on the funnel-like nozzle, you'll probably love this dome-topped smoker from Goodland Bee Supply.
I was really happy to see that the company sends out those smokers with a 3-pack smoke log set each.
Guaranteed, that's nowhere as impressive (or cost-efficient) as the 54-piece pack in the Blisstime smoker kit. But it's a nice addition, especially if you're still trying out different fuels to see which works best for your bees.
Pros:
It comes with three mugwort smoke logs.
The narrow spout can make directing the smoke easier.
The top of the dome is decorated with a laser-etched logo.
With a drop-in design, the bottom disc is really easy to remove.
Cons:
The lid fit is sometimes not tight enough.
The drop-in grate/disc at the bottom is loose enough to fall if you invert the smoker.
Foxhound Bee smoker's design caught my eye right away.
The company ditched the regular hook-like opener tap on the nozzle and used a ring loop instead. They also picked a unique color for the bellows, which was a bold yet successful choice, in my opinion.
In terms of features, you get some expected stuff, like the clips, and some unexpected ones. I particularly loved the little metal storage thingy on the bellows—my hive tool fits right in!
However, none of those handy features takes the spotlight.
What makes the smoker so suitable for heavy-duty use is the updated tube leading from the bellows to the bottom of the firebox. It boosts airflow and gives you even more smoke with each puff.
Plus, the airflow plate is thicker than usual and can handle the heat like a champ.
Since the whole smoker is made to last a while, you'll probably want to remove that plate at some point and give it a good cleanse. I looked around, and it seemed doable. You'll need a needle-nose plier or something to pull it out, though.
Pros:
You'll get great airflow, thanks to the bottom metal tube.
The smoker comes in a standard 11-inch size and a professional 12.4-inch one.
You can use the conveniently positioned tool holder to reduce clutter.
The design features green, composite leather bellows that are both durable and appealing.
Cons:
It's a bit pricey.
Some smoke might leak out from the lid.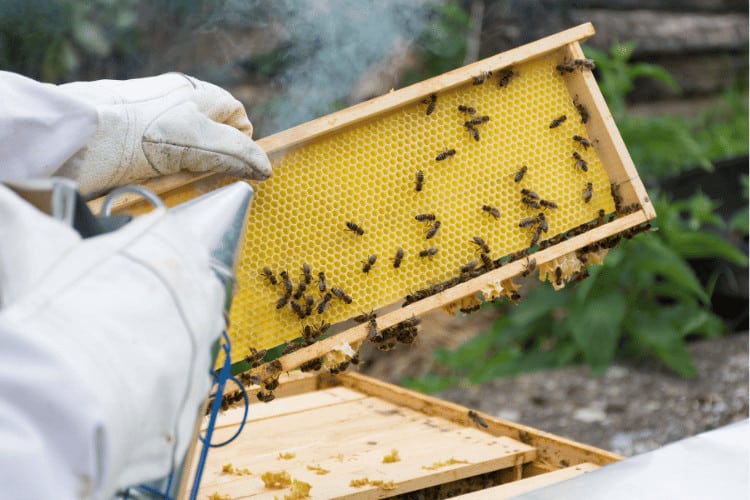 I know we're supposed to be looking at smokers only, but I couldn't resist mentioning this starter kit by the Honey Lake Store.
The star of the show is a standard-size smoker with a decent stainless steel body. But you also get a 52-piece pellet pack, one uncapping fork, two hive tools (J-hook and L-hook), and a frame grabber.
Overall, this one would make a great gift for a fellow beekeeper who's still building up their tool set.
Pros:
It's a good value for money.
The included pellets smell nice.
The fork and hive tools' quality is surprisingly good.
Cons:
A few users didn't receive the smoker pellets.
Some folks keep bees as a standalone hobby or to help their gardens flourish. Others do it to make a living. Regardless of the reasons, it's not unreasonable to want to keep your setup as eco-friendly as possible.
In this case, you might want to check out this smoker by Benefitbee.
The manufacturer used a degradable leather material for the bellows. Don't let that fool you into thinking that it'll tear right away, though. The fabric can take some wear and tear!
I also liked how the heat shield cage raises the canister off the ground a bit. Not to mention, the design features a nice dome top like the Goodland Bee Supply model!
The main catch here is that I couldn't find enough customer reviews to go through before ordering this smoker.
Pros:
It features a brightly colored and eco-friendly bellows material.
The clip is attached with a chain to the frame so it doesn't get lost easily.
The inner disc (with legs) is easy to remove yet won't drop if you invert the smoker.
Cons:
It's not a particularly popular or highly reviewed smoker.
5 Things to Consider Before Buying a Bee Smoker
Maybe you already have your eyes on one of the seven smokers. Or perhaps you're going to pick something else off the list.
Either way, there are a few factors that can help you find the perfect fit for your beekeeping kit. Let's check them out!
1. Smoker Operation
Your typical bee smoker design features bellows that you squeeze to push air into a cylindrical firebox. While that's my favorite mode of operation, it's not the only one on the market.
There are electric bee smokers out there. Usually, you pop four AA batteries into the handle or plug in a USB charger to power up the tool. Then, you press a button to blow out smoke from the spout, which sounds super convenient.
However, I've yet to come across an electric smoker that I like enough to recommend to you guys. So, for now, we'll have to settle for the traditional blower design.
2. Construction Materials (Canisters and Bellows)
Whether you're buying a smoker or putting it together yourself, you want the canister body to be made from stainless steel or a galvanized zinc sheet. All my top picks are stainless steel, so you don't have to worry too much about the durability.
But there's one more construction aspect to consider: the bellows.
The majority of manufacturers nowadays use synthetic leather-like fabrics.
Naturally, there's always a risk that material will tear at the nooks or crack with heat. But if the canister is still in good shape, you can replace the fabric. You'll disassemble the frame, remove the worn-out fabric, trace out the shape on a new piece of leather, cut it, and install it back.
Some beekeepers replace the box (plywood included) if the frame is too worn out. Just check that the model you're getting has easily accessible screws for the bellows section. Then, you can grab a compatible box with PVC leather or cowhide.
If you've got some time on your hands, you could even DIY a replacement box from scratch.
3. Canister Size
Most beekeeper smokers measure 11 inches from the bottom of the canister to the top of the nozzle, but you might be able to find others that are only 7 inches tall. Of course, we've also seen models that are 12 inches or more.
So, how do you choose?
Well, smaller canisters don't hold a lot of fuel. On average, a 4 x 7-inch body will cover 5–10 colonies. If you're planning to smoke out more colonies, you'll need a smoker that's at least 4 x 10.
4. Heat Shield
No matter which size you choose, try to get a smoker with a heat shield and make sure the cage is large enough to cover the majority of the smoker's body.
After all, you don't want to leave the top of a long, hot canister exposed and risk burning your fingers. It would be even better if you could find a heat guard that lifts the bottom of the fire chamber off the ground!
5. Opener Tap
Many smoker models, like the Bee-V001, have a hook-shaped opener tap. While others, like the Foxhound smoker, have a coiled wire ring.
Honestly, both are fine, but some beekeepers might find one shape easier to hold with a glove than the other. If you're not sure which you like best yet, try things out with two affordable smokers before committing to one design.
Wrapping Up
You won't go wrong with any of the smokers on the list, but VIVO Bee-V001 is a go-to model for beginners.
If you've already worn out a canister (or two) and are looking to upgrade to something more heavy-duty, then the Foxhound Bee smoker is your guy.
Once you receive your smoker, check out my post about choosing the best fuel to make the most out of each puff!