The 5 Best Beekeeping Books You Need to Read at Least Once
Beekeeping can seem complex for beginners as it involves plenty of responsibilities and tasks.
Even as professional beekeepers, we sometimes find ourselves in dire need of guidance in certain areas.
Beekeeping books can come in handy in these cases.
Although there's a plethora of online educational resources for beekeepers, books are a better option regarding information depth and accuracy.
In this post, I'll provide you with a list of the five best beekeeping books I believe every beekeeper needs to read.
The 5 Must-Read Best Beekeeping Books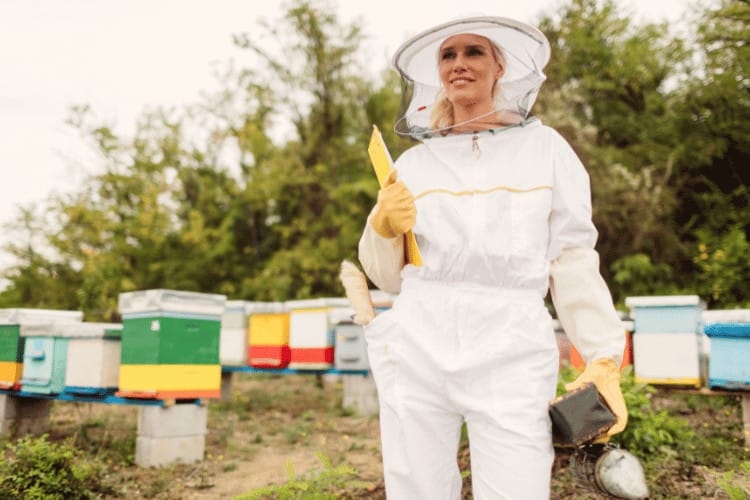 Although the beekeeping books market is full of options, the following are the most useful in my experience:
The Natural Beekeeping book will take you on a journey to learn how to maintain a chemical-free beekeeping.
The second edition of the book includes updated information about urban beekeeping. It also provides valuable insight into marketing beehives and honey products.
This marketing information comes from the author's rich background in managing beekeeping businesses.
The author, Rose Conrad, also discusses the common problems many beekeepers encounter and how to address each properly.
What I found really special in this book is the reflection of the author's extensive experience in the practical advice provided.
Natural Beekeeping is a 304-page book, and it's available in both paperback and Kindle versions.
What I Liked
Discusses many serious issues about beekeeping on both a personal and national scale
Provides many organic solutions for pest control
Discusses unconventional topics in beekeeping like sustainability
One of the best books that address Varroa mite control 
Contains an entire chapter that covers the most common beekeepers' mistakes and ways to avoid them
What I Didn't Like
Not a comprehensive reference. So, you should complement it with other books
Lacks a lot of details about the tools and equipment you need for beekeeping
There are a lot of problems and challenges we encounter as beekeepers. Some of them can be highly frustrating when we can't find the right solution.
In such situations, a book like The Beekeeper's Problem Solver can save the day!
Whether you're getting low honey yields, losing your hive, or experiencing any other problem, you'll probably find a practical solution in this book.
In the book, the author, James E. Tew, discusses the 100 most common problems he experienced throughout his 40-year extensive experience as a beekeeper.
Tew presents each problem and its underlying causes and then provides detailed solutions for them.
The issues Tew discusses cover various areas of beekeeping, including hive management and the health of the beehive.
What I liked the most about this book is that it provides the essential knowledge to identify problems at an early stage. That way, you can minimize the losses as much as possible.
This is especially important as many bee problems aren't easy to detect until they become severe.
What I Liked
Contains photographs and diagrams to simplify the learning experience
Addresses the problems deeply
Written by a highly seasoned beekeeper with over 40 years of experience
Straightforward and easy to understand by beekeepers with little experience
What I Didn't Like
A few solutions in the book don't include all the necessary information you need to apply them
Beginning Beekeeping is an excellent guide for any amateur or beginner beekeeper. It's a 192-page book of well-researched and prepared content.
In this book, the author, Tanya Phillips, shares a lot of tips from her extensive experience of beekeeping in a simple way.
I was surprised by the perfect incorporation of visual illustrations in the book that facilitate the comprehension of some complex topics. The book contains over 120 color photos.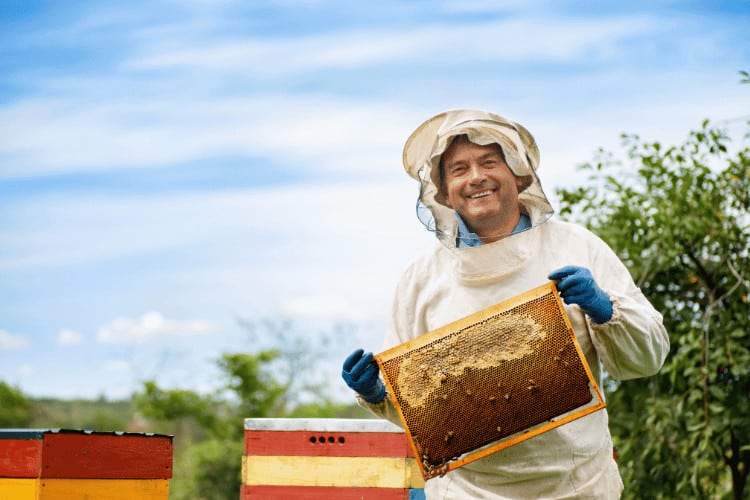 Here are some of the essential topics Beginning Beekeeping covers:
The way hive works
Control of common bee diseases and pests
Guidelines for handling the common issues of hive problems, such as robbing and swarming
The effective ways of processing and storing wax and honey
What I Liked
The style and flow of the writing are highly engaging. This encourages you to keep reading through the book
Short and to-the-point
The book content is perfectly organized
What I Didn't Like
The bee feeding section lacks essential information, like the preparation methods of sugar syrup
I'd recommend The Backyard Beekeeper book for beekeepers of all experience levels. In this book, Kim Flottum simplifies the complex tradition of beekeeping.
He provides expert advice on setting up bee colonies and caring for them.
It also highlights how to select beehive locations and the ideal methods for maintaining honey bees.
Flottum covers topics like swarm control, common bee problems, and harvesting beehive products as well.

In addition, the book delves deeply into how to feed your bees best to maintain and improve their health.
What sets this book apart is its up-to-date information in the discussion of urban beekeeping.
This was obvious in the sections about the best ways to use smokers and addressing different bee pests.
The 240-page book provides interesting information in a combination of text and illustrations.
What I liked
Incorporates highly appealing images
Presents information in an enjoyable way
Its information is up-to-date
Written in simple, beginner-friendly language
What I Didn't Like
The organization of the content needs improvement, as the order of topics can be a bit confusing for beginners.
As its name suggests, Beekeeping for Dummies is one of the most straightforward guides to backyard beekeeping.
It's an excellent source for beginner beekeepers but can also be a reference for seasoned keepers.
In this book, the author, Howland Blackiston, walks you through the different stages of honey production. He shares his 30-year experience of beekeeping in 480 pages.
The book discusses how to get started with your first bee colony. It provides information on beehive assembly and their required maintenance as well.
This book is an excellent choice if you're reading about beekeeping for the first time. After reading this book, you'll be able to understand other more advanced beekeeping books.
Beekeeping for Dummies covers vital areas of beekeeping, including the following:
Managing top-bar and Langstroth hives
The recommendations for getting and keeping bees safely
Guidance on keeping bees in a city or suburb
Beehive maintenance and early problems inspection
The most common issues with beehives and bees
What I Liked
The book is written in simple, straightforward language
A comprehensive guide that covers almost all the essential aspects of beekeeping
The content is perfectly organized so that you can easily refer back to it when you need help
What I Didn't Like
A bit wordy. Some sections could've been shortened
How to Choose the Best Beekeeping Books?
There are several considerations when picking a beekeeping book. However, these are the most important aspects to keep in mind: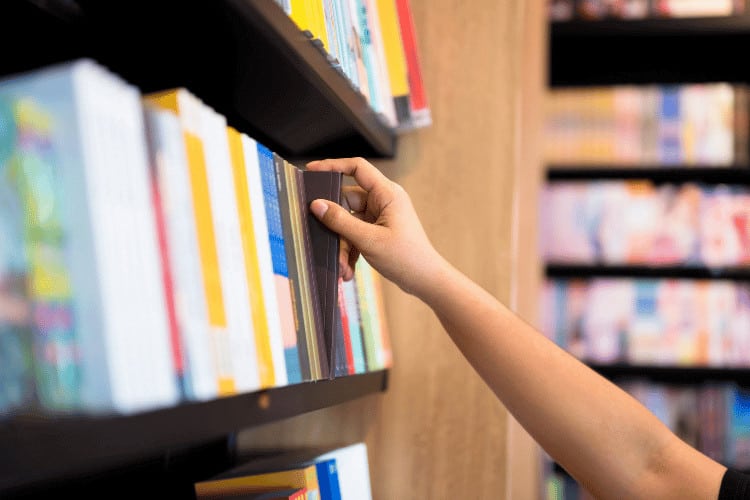 Your Beekeeping Experience Level
Various beekeeping books suit different levels of readers' experiences. To get the most out of a book, it should fit your experience level.
I recommend you check the level of experience the book targets before buying it. You can do this by simply reading the online description of the book.
If you're purchasing the book from a physical store, you can find the description on the back of the book.
Your Current Needs
Some people have a general passion for bees and don't mind reading an entire book about the history of beekeeping just for fun.
On the other hand, others seek books with practical advice that can benefit them in their beekeeping journey.
So, depending on your reading needs, decide on the best book for you.
The Author's Expertise
The author's experience plays a significant role in determining the depth and practicality of the information in the book.
Authors with extensive experience can provide more valuable real-life advice rather than only offering theoretical information.
That way, it's a good idea to check the author's expertise and credentials before picking any beekeeping book.
Visuals and Illustrations
Including images in a book can make it much more digestible for you. It'll also make the information much easier to remember.
For this reason, it's better to look for beekeeping books with illustrations.
Readers' Reviews and Feedback
Although they might not be 100% accurate, readers' reviews and feedback can give you an idea of whether the book suits you.
They also can be an indication of the content quality of the book.
The Bottom Line
By now, you have our list of the recommended best beekeeping books.
Beekeeping for Dummies and Beginning Beekeeping books can be excellent choices if you're an absolute beginner. 
If you're an intermediate or advanced beekeeper struggling with bee or hive issues, the Beekeeper's Problem Solver book is the way to go.
If you prefer organic beekeeping, the Natural Beekeeping book is the ideal option for you.
I'd recommend The Backyard Beekeeper if you're looking for a comprehensive, illustration-rich beekeeping book.