Five Best Beekeeping Hats and Veils
Whether you're a beginner or an adept beekeeper, you should always be looking for the best beekeeping hats and veils in the market. This protective gear enables you to have a smooth experience around your hive.
But how to choose the best beekeeping hats and veils?
This buying guide outlines the main factors you should consider when choosing your protective gear. It also lists the five best beekeeping hats and veils we've found in the market.
5 Factors to Consider When Choosing Beekeeping Hats and Veils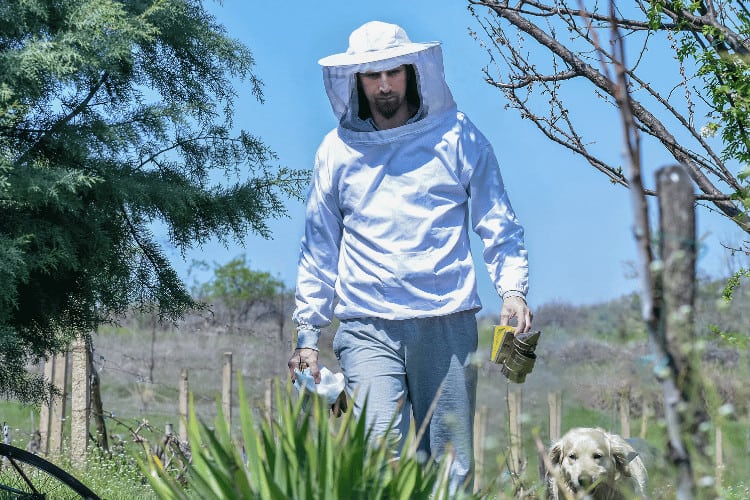 Beekeeping hats and veils help you avoid bee stings, which we can all tell from experience are the worst part of beekeeping. Thus, when purchasing a new hat and veil, consider the following factors.
Design
Generally, there are three designs of beekeeping hats and veils to choose from:
Square: That's usually a two-piece model, with a square hat that you can separate from the veil. It can be the most affordable choice but, sometimes, at the expense of visibility.
Round: It's made of mesh attached to a large brim hat that's wide enough to encircle your entire head. Although this type isn't the most convenient, it offers high visibility.
Fencing or hooded: This type offers a comfortable fit as it surrounds your head. Yet, that means poor peripheral vision.
Visibility
Working among angry bees can be dangerous. You need to be able to see your surroundings vividly, which makes visibility one of the most important factors to consider.
In other words, peripheral visibility is crucial. That's why, we recommend that you use a hat and veil with high visibility.
Comfort and Fit
As beekeepers, we know that the hat and veil should comfortably fit our heads. When they don't perfectly fit, it can be a hazard.
Choose a hat and veil that doesn't slip or move for more protection. Most of the time, your hands won't be free to adjust your protective gear anyway.
Material
Invest in some quality material that translates into sturdiness and durability. You want your beekeeping hat and veil to last long and prevent stings.
A sturdy material can ward off bees, leaving you protected. After all, isn't this the real purpose of the hat and veil?
Affordability
We know that beekeeping can be rather expensive. Therefore, most adept beekeepers try to reduce costs in various aspects. That's one of them.
That doesn't mean you should purchase cheap hats and veils, but rather opt for cost-efficient choices. That way, you get the necessary protection at affordable prices.
5 Best Beekeeping Hats and Veils
Starting a beehive can be too much work, but you can add some fun to it by getting some cool and functional equipment.
Based on our research and experience, these are the best five beekeeping hats and veils in the market. There are some fine differences between them, so choose the one that suits your personal needs:
1. Goodland Bee Supply Natural Cotton Beekeepers Hat and Veil – Best Overall
The natural cotton beekeeper's hat and veil by Goodland Bee Supply is a large and sturdy design. It combines the perks of a traditional round design with the versatility of a two-piece set to separate the hat and the veil.
This veil hat is made of natural cotton, hemp, and nylon mesh. That makes it sturdy, comfortable, and long-lasting. The large hat can fit any head size and protect you from the sun during beehive inspection and maintenance.
It comes with elastic straps that go under the armpit. Although I didn't find those straps to be the strongest as they snap or stretch over time, they still didn't affect my opinion of the entire hat and veil.
Typical of the round design, this hat veil gives you superb peripheral vision to go around your beehive while doing quick feeding or maintenance.
Pros
Sturdy material
Good price
Large size
Separable parts
Cons
Not the strongest shoulder straps
2. Humble Bee 210 Polycotton Beekeeping Veil with Round Hat – Best Protection
The Humble Bee 210 Polycotton is a sturdy round-style beekeeping veil and hat. That translates into great visibility since the round style allows you an excellent peripheral field of vision.
As for protection and coverage, the round hat keeps the mesh far from your face, which drives bees further away. In addition, the bottom part is elastic and drapes tightly over your shoulders with elastic straps that go under the armpits.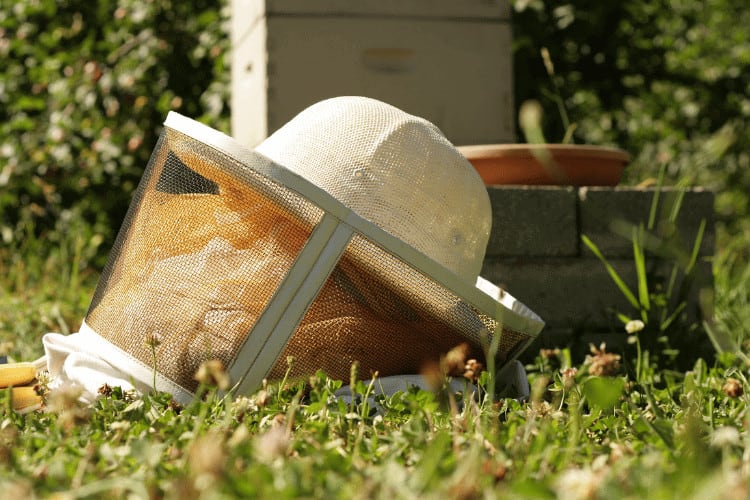 Interestingly, this one comes in different colors that makes it appealing to everyone. In fact, my partner was thrilled to find it in pink.
Overall, I believe that this model is worth the investment because of its sturdy material that lasts a long time.
Pros
Great visibility
Different colors
Wide coverage
Cons
Pricier than most models
Tight shoulder straps
3. Hunterbee 2-in-1 Beekeeping Veil Hat – Budget Pick
Who said you need to pay a ton of money for a quality veil hat?
The Hunterbee 2-in-1 beekeeping veil and hat combines quality and affordability. For starters, it's a value 2-in-1 product: a hat and veil that comes with goatskin gloves for maximum protection.
The hat fits perfectly thanks to the adjustable chin and shoulder straps. That means maximum protection for your face, neck, and shoulders.
In addition, I found the mesh very clear, which allows excellent visibility. I wasn't at all bothered by this veil hat while working around my hives, thanks to its comfortable and breathable material.
The Hunterbee veil and hat is a lightweight and versatile model that can be used for different purposes. Personally, I find it handy when gardening or going for walks in the evening when mosquitos get super active.
As for storage, you can easily fold this veil hat and store it anywhere. It won't take up much space, and you shouldn't worry about damaging it in any way.
Pros
Fits a tight budget
Adjustable straps
Versatile
Foldable
Comes with gloves
Cons
Can be thin and flimsy
Hat sometimes gets loose
4. Luwint Folding Square Beekeeping Veil Hats – Best for Storage
The Luwint Folding Square Beekeeping Veil Hat offers great protection as it's made of strong unbendable mesh that falls away from your face. That way, it keeps you confident that bees won't be able to reach your face.
When I tried this square model, I liked the coverage it offers. I found it large enough to cover my entire head, neck, and shoulders. It also comes with elastic shoulder straps that go under the armpits to secure it in position.
In my experience, this hat is made of breathable cotton that doesn't affect visibility. That also makes it very easy to clean.
That's a square model, which typically allows you to separate the hat and veil for easy storage. That makes the Luwint square veil hat the ideal choice if you travel with your equipment or if you plan to store it as an extra piece.
Pros
Easily foldable
Good fit
Sturdy material
Affordable price
Cons
Non-adjustable shoulder straps
Not machine washable
5. Qingsi Beekeeping Veil Hat – Best for Females
Good news for all the female beekeepers out there! There's a fashionable yet functional veil hat to protect you against bee stings.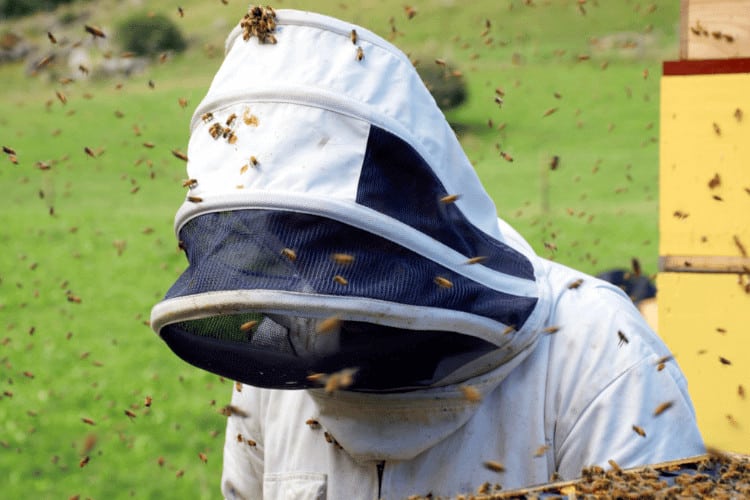 The moment you see the Qingsi beekeeping veil hat, you'll realize how unique it is. The cowboy hat with its attractive color made me think of this model as a fashion statement rather than a simple protective piece of equipment.
That doesn't mean men can't use it. In fact, I found it large enough to fit a large man. The hat is wide with a sizable brim that protects you against the sun and keeps the mesh away from your face.
I, personally, appreciate the cowboy nettings at the back and sides that keep my neck cool enough to endure the heat of the summer. On the front side, nothing hinders your vision, thanks to the durable dark mesh.
In addition, it comes with elastic straps that keep it in place around your body for maximum protection.
Pros
Unique design
Attractive color
Large
High visibility
Cons
Conclusion
Beekeeping hats and veils are among the most essential equipment for any beekeeper regardless of skills. Therefore, you should find the best beekeeping hats and veils to work around your beehives safely and comfortably.
Our favorite beekeeping hat veil is the Goodland Bee Supply hat veil, which is made of breathable, yet durable, natural cotton. That makes it comfortable and heavy-duty.
The runner-up is the Humble Bee 210 Polycotton hat veil that offers maximum protection. However, it's a little pricey. If you're on a budget though, don't worry. You can still get premium quality with the Hunterbee 2-in-1 hat and veil.
If you want a spare hat veil that can easily be stored without damage, go for the foldable Luwint beekeeping hat. It combines all the perks of a square hat with a design that's easy to fold and store.
Finally, who said you can't go stylish with a professional beekeeping hat veil? The Qingsi cowboy hat with netting is stylish, versatile, and functional.
Regardless of your beekeeping needs, you can easily find the right hat veil in the market.