10 Best Beekeeping Jackets: Stay Sting-Free in 2023
Beekeeping is an exciting backyard hobby that can grow into a profitable full-time business. Harvesting honey, inspecting hives, and collecting pollen are among the rewarding activities that come with being a beekeeper.
However, beekeeping does have its own set of challenges, such as protecting yourself from bee stings. Whether you're a beginner or an experienced beekeeper, you'll need a trustworthy beekeeping suit or jacket to keep you sting-free and safe when handling your hives.
The best beekeeping jackets are breathable, highly protective, easy to wear, comfortable to use, and durable enough to last many seasons. As a beekeeper, I prefer beekeeping jackets to suits because they're less cumbersome and allow me to move around more easily.
In this guide, I'd like to show you the best beekeeping jackets I've found and used so you can enjoy your beekeeping experience to the fullest.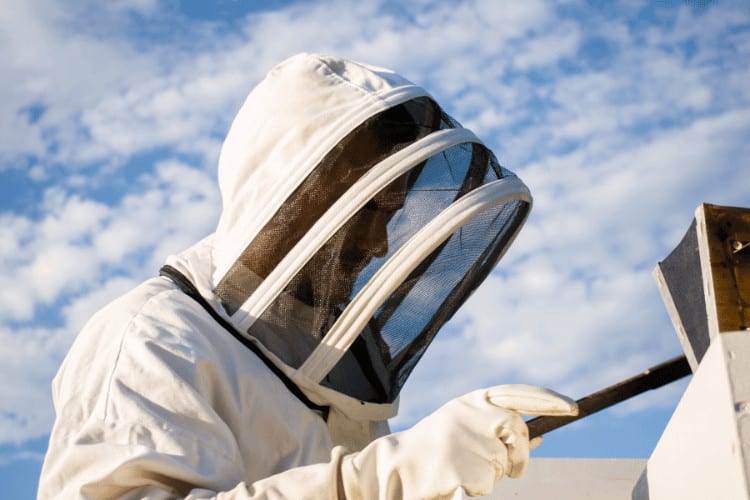 If you're looking for a natural beekeeper jacket that's light and gentle on the skin, this one from Bees & Co is made of 100% pure and unbleached cotton. As a beekeeper with sensitive skin, I like how the fabric is hypoallergenic, which means it's safe enough, even for a baby's skin.
In my experience, natural cotton is as sting-resistant as standard blends, so you won't have a problem with bee jabs in this jacket. Natural cotton is also more effective at absorbing moisture and cooling your body and doesn't develop any strange odors compared to other fabrics.
Another feature that I appreciate is this jacket's true-to-size and tailored fit. I didn't have any trouble picking out the right size, and the quality and workmanship of the jacket are remarkable. The pockets are double-stitched and have their own self-fastening flaps, which is a nice touch.
Pros
Available in four colors: white, crystal white, natural white, and beige
Exceeds European Union quality standards
Two-year warranty and 110% money-back guarantee
Cons
Zipper is prone to damage
When I came across Humble Bee's beekeeping jacket, the first thing that caught my attention was its unique texture. In my research, I discovered that this jacket is woven in a special interlocking pattern, which makes the fabric extra strong and protective yet still breathable.
A thorough inspection revealed to me that other parts of this jacket are similarly high quality. All pockets are double stitched, the zippers glide smoothly, and the large ring tabs are easy to use, even when I'm wearing bulky beekeeping gloves.
One of my favorite features is that it comes with a beautiful carrying case made of tough canvas cloth, which I found useful in case I want to bring my jacket with me when visiting my friends' hives.
It's worth mentioning that Humble Bee supports not-for-profit beekeeping organizations. If you want to contribute to local beekeepers and promote bee conservation efforts, purchasing their jackets is one way to do it!
Pros
Self-supporting removable round veil
Unisex design with a tailored fit
360-degree mesh for extensive viewing
Cons
May feel warm due to limited ventilation
This beekeeper jacket from the Forest Beekeeping Supply is one of the most affordable ones on our list, but it doesn't compromise on quality at all. I found that it has all the essential features you'll need in a day-to-day bee jacket, and it's well-crafted with 100% natural cotton.
Since it's made with natural fibers, this jacket is an eco-friendly and sustainable choice for your beekeeping outfit. In addition to having a small carbon footprint, the fabric is incredibly durable as well. You won't have to worry about giving it special treatment over your regular clothing.
One special feature that I observed in this jacket is its round veil, which is much wider than other models, making it safer to use for your face. If you take a closer look at the cap, you'll notice that it's finely stitched with a double layer of cotton fabric for extra protection from bee stings.
Pros
Sturdy and heavy-duty brass zippers
Elastic wrist, waist, and thumb straps
Clear view fiberglass screen mesh
Cons
Cap band runs small, you may need to size it up
Over the years, I've noticed that the usual beekeeping jackets I use tend to have two spots that are especially vulnerable to bees. The first one is the part connecting the veil to the jacket, and the second one is the waist of the jacket, which tends to ride up my back whenever I bend over.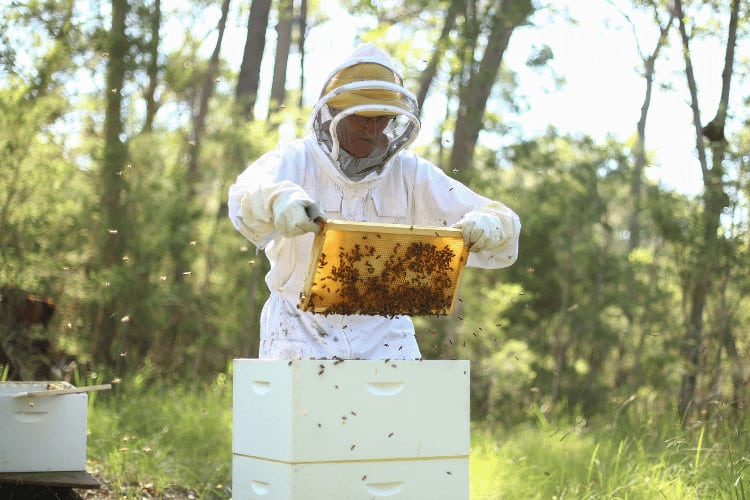 Thankfully, Foxhound Bee Company's sting stopper jacket reinforces the two areas. I noticed that there's an overlapping neck zipper that keeps bees out of the jacket, and there's an extra long torso that protects your back even when you bend to pick something up from the ground.
I like that this jacket is easy to wear when you're in a rush, as it has a sleeper feature that allows you to put it on without having to unzip any part of the jacket. I also find it convenient to store because the jacket has a collapsible accordion veil that can be removed when not in use.
Pros
Olive green and white colors are available
Oversized pull rings on all zippers
Machine washable
Cons
Limited availability for extra small and extra large sizes
If you want your beekeeping outfit to look and feel good in addition to protecting you from stings, consider this well-designed jacket from BeeProGear.
At first glance, I almost mistook it for a casual jacket because of its visual appeal, unlike many awkward-looking bee jackets I've worn in the past. There's more to this jacket than it looks, though. Its fabric panels feel ultra-airy on my body, with several layers to protect me from stings.
As a beekeeper, pockets are a big help when working in the bee yard for long hours—this jacket has five! Its ring pullers give you a good grip when handling the zippers, and there's an antifold strip on the veil to prevent folding.
In my experience, constant exposure to smoker or lighter flames can be risky on your face. That's why I appreciate that this jacket has a non-flammable round veil and mesh. I also like that it's machine washable, making the jacket simple and easy to clean in between uses.
Pros
Khaki and white colors are available
Top-to-bottom ventilation system
Velcro secured pockets
Cons
Sizes run a bit small (you might need to size up)
Glorybee's beekeeping jacket is a product of the company's 50 years of experience in the honey industry. Having worked with top beekeepers worldwide, Glorybee took all the essential features of the best beekeeping apparel and combined them into one heavy-duty jacket.
The first thing I noticed about this jacket is that it's extremely easy to pull on and off. Its cotton polyester blend feels light and comfy on the skin, too. Double velcro enclosures and elastic bands offer protection from curious bees trying to get into your jacket.
I also liked this jacket's sturdy YKK zippers with a metal pull that's durable enough to last many seasons. The front of the jacket has a generous amount of pockets on the chest and waist, so you can keep your things organized and tend to your bees hands-free.
Pros
Thumb straps on jacket wrists
Easy-to-zip and detachable mesh veil
Zipper front for easy access
Cons
Can feel warm due to limited ventilation
I have to say, OZ Armour's beekeeping jacket is one of my favorites out of the top-performing jackets on this list. The number of clever features in this clothing will leave you pleasantly surprised and satisfied with each use.
Its layered mesh fabric offers sting protection and ventilation with a high stitch per inch (SPI), ensuring that your jacket will last for many years. Plus, it has overlapping zippers so that bees will have no chance of entering.
As for the hood, I find it convenient that it opens from the front and has plastic inserts that keep the veil upright. Upon closer look, I noticed that the jacket is reinforced with twill tape stitching for durability and a flap over the front zipper for security.
Other small but useful features that I noticed include velcro flaps on the pockets, a hanger loop for easy storage, and sun protection on the hood. There's also a pen holder and a key clip loop on the side pockets to keep your small items. What more can you ask for in a jacket?
Pros
Available sizes range from XXS to 8XL
Comes with two hoods (fencing and round)
High visibility mesh for both hoods
Cons
Hoods aren't machine washable
This beekeeping jacket from Cocobee USA is an excellent choice if you're looking for an everyday jacket that's easy to use and wallet-friendly. At an affordable price, I was pleased to see that it even comes with a nice carrying case and a pair of gloves to match the jacket!
Although the jacket provides a comfortable and loose fit, its elastic waist, wrists, and thumb holds keep everything snuggly in place. True to its name, I observed that this jacket offers ventilation from top to bottom, and not just in some areas like other jackets.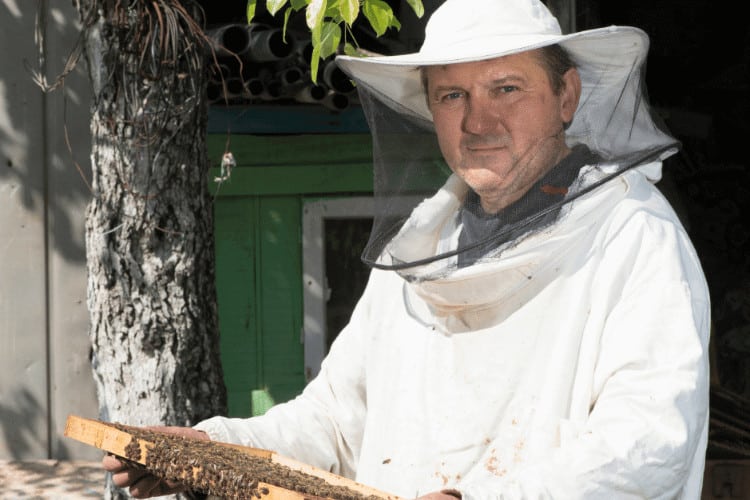 A convenient detail that I appreciate is its roomy, plentiful, and strategically placed pockets. They're just the right size for carrying my hive tools, some beehive smoker fuel, and sometimes even my phone.
Pros
Removable round veil hood
Wide range of available sizes (from S to 5XL)
Breathable fabric and tailored fit
Cons
Zipper is prone to issues like breakage
What's special about ComfortPro's beekeeping jacket is its lightweight air-mesh material. When using this jacket, you'll notice your body heat freely moving out the fabric, while cool air from a breeze can easily pass through.
One of the features I liked the most about this jacket is its easy-open veil. A wide zipper opens up the front of the hood, allowing you to take a quick sip of water or wipe your face without having to take off your entire veil.
It's extra convenient, especially if you spend a lot of time on your beekeeping hobby or business. You'll also get an incredibly clear view from the veil. This feature is a priority to me since I've struggled to properly focus on the bees in the past due to blurry screens.
Lastly, but most importantly, I found that this jacket offers superior sting protection. It'll keep you safe and stress-free even while you're trying to calm an aggressive hive.
Pros
Interchangeable veil
Wide range of available sizes (from XS to 5XL)
Stretchable waistband
Cons
Limited to one color and design
If you're looking for extra protection but want to remain cool while inspecting your beehive, Natural Apiary offers the best of both worlds.
The first feature of this jacket that caught my attention is its 3-layer design with a 5mm gap that provides outstanding protection from stings. The drawback to most jackets like these is the heat inside, but this one is surprisingly breathable, comfortable, and convenient to use.
I also appreciate the fact that this jacket comes with both a round and a fencing veil. The round veil is great if you prefer a wider view while working, but the fencing veil keeps your head cooler as it's more of a hood than a hat.
Other features worth mentioning include this jacket's velcro-secured pockets, elastic seals on your waist and wrists, and cuffs that have thumb loops. Additionally, I noticed that it has an extra thick collar to protect your neck area.
Pros
Durable metal YKK zippers
Non-flammable mesh veils
Detachable hood
Cons
Finding the Best Beekeeping Jacket for Your Needs
A safe and reliable beekeeping outfit will greatly enhance your beekeeping experience, especially if you're a beginner beekeeper. In my experience, bee jackets provide the perfect combination of protection and comfort as I go about my daily tasks in the bee yard.
I've put together this list of the best beekeeping jackets in the hopes that it'll make it easier for you to find the right jacket for your needs. Not all jackets are created equal, so make sure that you choose one that fits your lifestyle, size, working habits, and environment.