Beekeeper Gears: The Best Beekeeping Suits in 2023 (Ultimate Buyer's Guide)
Farmers have their plows, and gardeners have their pruning shears. Beekeepers, on the other hand, have their beekeeping suits.
Beekeepers need these suits for protection against bee stings—which we get a lot. But it's especially important for newbie apiarists still learning about bee behaviors.
So, if you're new to this trade, you might wonder which beekeeping gears are best for the job. And if that's your case, we've got you covered.
Today, we're walking you through the best beekeeping suits in 2023. Our list includes the best apiarist brands, from the most durable to the most comfortable.
We'll also throw in some tips for choosing your first beekeeping suit. So, keep up!
Top 7 Beekeeping Suits in 2023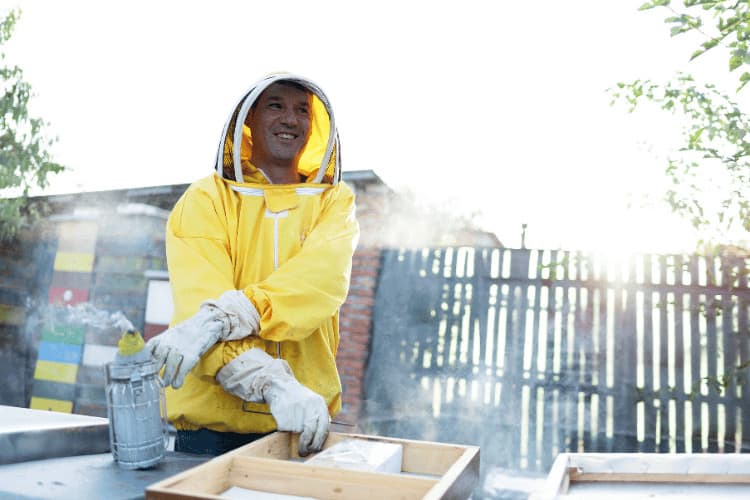 Not all beekeeping suits are equal. Some provide better protection, some present greater comfort, and others highlight material quality.
So, to make your choice more painless, we tried some of the best beekeeping suits in 2023. Below is our in-depth analysis and review of them.
Foxhound Bee Company's professional beekeeping suit is a must-have equipment for beekeepers. It takes the best overall spot for striking the perfect balance of comfortability and practicality.
Foxhound Bee Company is a trusted apiarist gear brand in the U.S. Founded by a master beekeeper—the brand boasts one of the highest qualities of bee products and apiarist gear since 2012.
Feature-wise, we love their suits for various reasons. But mostly because it's got the four most important features of a beekeeping suit (protection, ventilation, visibility, and maintenance) precisely as we want them.
The suit has three layers of fabric for the best protection against bee stings. But despite its layered construction, the ventilation technology works like a charm.
Its veil design provides additional protection and high visibility and is simple to attach and detach. The darker color of the suit also makes maintenance easier.
Pros
Oversized pull rings for effortless suiting
Light suit construction
Overlapping neck zipper for neck protection
A one-piece suit that's easy to slide in and out
The veil material provides complete visibility
Cons
Price
Foxhound Bee Company sells the suit at a very competitive price. You can purchase the gear at a very reasonable price of $179 at the writing of this article.
Are you looking for a beekeeping suit to last years, even decades? Then you won't get wrong getting a B.J. Sherriff apiarist suit.
The well-respected apiarist brand has a long-standing reputation for creating top-notch beekeeping suits for professionals and beginners. In fact, B.J. Sherriff is one of the pioneers in making detachable fencing veils, copied by many manufacturers today.
Quality-wise, B.J. Sheriff's beekeeping suit remains unmatched. The double-stitched seams and polycotton fabric blend provide unshrinking durability and protection in one.
What we love the most about using this suit is its excellent fit. It has elastic attachments in the waist and ankles and a thumb loop in the cuffs, securing the gear even with large movements.
After using the suit, we can confidently say that the European company's five decades of experience shine through this complete suit design.
Pros
Unobstructed view with B.J. Sheriff's ClearView technology
Available in customized sizes for all body types
Durability to last 15 years and more
Won't shrink like cotton and polyester suits
Cons
Larger sizes cost more
High demand means limited availability
Price
Price-wise, B.J. Sheriff's suits can be expensive for first-time beekeepers. A pair of this suit costs over $220 at the company's website.
Getting into the habit of wearing a beekeeping suit can be challenging for newbies. So, you might prefer a gear that's lightweight and easy to wear at first.
If that's your case, we recommend buying Bees and Co.'s lightweight suit.
Bees and Co is another behemoth in the beekeeping products industry. And despite their suit's light construction, it has everything we need for safe and enjoyable bee tending.
The suit's primary material is cotton, which makes it breathable and comfortable. The same cotton features a unique mesh pattern that further improves air circulation within the gear, regardless of weather.
The circular design of the head veil gives more than enough visibility for the surroundings. And it has enough breathing space for your hair or any headgear you might have while working.
But what we love the most about this beekeeping outfit is its precise zipper placements. Getting in and out of the clothing would be a breeze, even for beginner apiarists.
Pros
Ultralight at only 14.4 ounces
Unisex design to fit men and women
Secure and comfortable fit with elasticized waistbands
Stitched with three spacious pockets
Cons
Lightweight construction requires careful use
Do not provide the best protection
Price
Bees and Co's extra light suit comes at a very reasonable price. You get one for only $139 from Amazon, and it comes with a convenient two-year warranty.
Don't let the "humble" in Humble Bee fool you. Despite the hint at modesty, their beekeeping suits brag some of the best protection you'll ever get.
What makes this beekeeping suit unique is its 50% cotton and 50% polyester construction. It means you get the most robust sting protection without sacrificing movability with its weight.
But what makes it more secure than others?
Well, in using the suit, we found that the cloth was woven with a tight, interlocking pattern. And this exceptional design creates a solid barrier against our tiny aggressors.
We also discovered flaps covering the zippers of the gear, preventing persistent bees from crawling under the suit, which shows impressive attention to detail.
But those aren't the only notable features Humble Bee added. You also get heavy-duty brass zippers, double-stitched pockets, and a canvas carrying case add-on.
So, overall, Humble Bee's polycotton suit delivers best-in-class protection as advertised.
Pros
Unisex design with size variations
Easy maintenance with machine-washable material
Reasonable pricing
Comfortable fit with elastic waist, wrists, and ankles
Cons
The suit may not be as breathable as other brands
The rounded veil isn't stable
Price
Despite its top-notch protection, Humble Bee's pricing is indeed humble. Tapping that order button would only cost you a little over $100 at Amazon.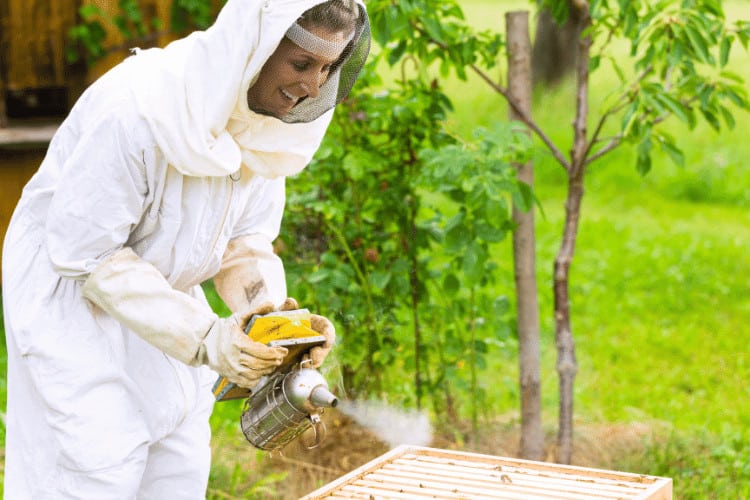 We understand that starting your beekeeping can be costly. As such, you might prefer a beekeeping suit that delivers quality performance at an affordable price.
LONGADS Professional Beekeeping suit is our best answer.
Mind you, we aren't simply throwing out the cheapest suit we can find in our drawer. This mind-blowingly affordable suit is an Amazon bestseller—the reason we purchased and tried it in the first place.
And as it turns out, we got more than we paid for. Protection, comfort, and durability: All came with the package with LONGADS beekeeping gear.
The highlight feature of the gear is its premium fabric, customized for the user's comfort and security. While not the highest quality on the market, it does a more-than-decent job of keeping bee stings from reaching your skin.
It's also surprisingly breathable and flexible, something you can only expect at a higher price point. The fence veil is spacious, and the fit is secure with elastic bands.
Pros
Comes with flexible goatskin gloves
One-year warranty
Excellent customer service
Added protection with dual zippers installed
Available for kids and adults
Cons
Price
Despite all its features, LONGADS managed to keep the suit's price affordable. One unit of this gear costs less than $50—it's a value dealer, indeed!
The suit's ventilation is a deal-maker or breaker for most beekeepers. After all, the job often requires challenging work under any weather conditions.
It's a feature you should look into if you live in areas with warmer temperatures. Trust us, moving around inside unventilated suits is nothing short of torture in this line of work.
Fortunately, most modern beekeeping suits have now taken comfortability into consideration with their designs. But out of all the brands we've tried, Humble Bee's Aero Suit is our favorite in this aspect.
The construction of this suit is unique in that it puts greater emphasis on user comfort. The material uses two layers of aerated 100% synthetic mesh fabric.
In between the two layers of fabric is a lightweight foam insert. So, although it's incredibly ventilated, it still delivers decent protection against stingers.
The best part? Humble Bee donates a portion of every purchase of its products to charity, helping local bee farmers and organizations with bee conservation initiatives.
Pros
Aerated design for the hottest weather
Self-supporting, detachable, and replaceable veil
Brazz zippers and double-stitched pockets
Designed for both men and women
Comes with a carrying case
Cons
Only comes in a summer beige color
More expensive than other Humble Bee suits
Price
Comfort often comes with an added push up the cost, but we'll go out on a limb and say it's worth it for this one. Humble Bee's Aero Beekeeping suit is sitting a little over the $200 price point.
Are you a fan of cotton clothing? Then, you'll surely enjoy wearing Flow Bee's Organic Cotton Beekeeping Suit for your next harvest or inspection.
We all know and love the comfort and breathability that cotton fabrics have. However, unlike other cotton suits, Flow Bee used 100% unbleached, organic cotton for its gear.
But what does that mean?
It means the material used for the suit didn't go through extensive chemical processing to manufacture, which usually involves massive quantities of pesticides.
It's one of the softest and most comfortable textures we've tried in a beekeeping suit. And yet premium fabric is merely one of its best features.
Flow Bee's suit packs highly durable YKK zippers, a detachable fencing veil, and comfy securing mechanisms. Buying one also includes a pair of ventilated goatskin gloves and a German-made J-hive tool.
Pros
Effortless maintenance with machine-washable fabric
Comes in a wide variety of sizes
Material is friendly to bees and the environment
Practical elastic thumbs and ankle stirrups
Supports local cotton farmers
Cons
Users may need additional veil support
Do not have the best ventilation in hot weather
Price
We salute Flow Bee for keeping the price reasonably affordable despite its premium material. You can get one of these suits at only $130 or pay four interest-free $30 installments via Paypal.
How to Choose Your Beekeeper Suit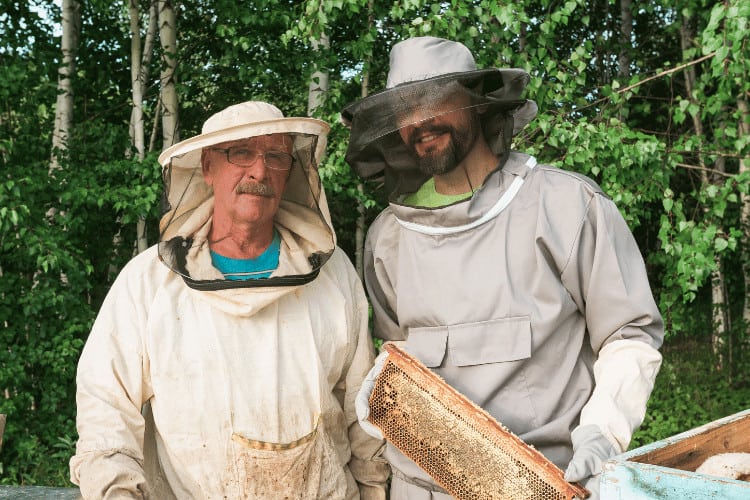 A good beekeeping suit is necessary for every apiarist. However, choosing one can be tricky if you don't know what to look for.
So, here are a few tips and features from our expert beekeepers:
Material
The suit's material is the first thing to consider when shopping for protective gear. And the same goes for choosing a beekeeping suit, though it mostly depends on your needs.
Nylon is a popular choice for its outstanding durability and protection. However, we usually use polycotton and cotton gears for their breathability.
Comfort
For superior comfort, we recommend choosing ventilated or aerated beekeeping suits, especially for beekeepers living in areas with intense heat.
Appropriate sizing is also crucial for optimal mobility and safety while working. Thus, it's best to choose a gear made precisely for your body size or gender.
Protection
Fabric type and design is the primary factor for protection. However, the securing mechanisms of the suit also contribute to keeping those pesky stingers away.
We recommend gears with velcro and zippers for their ease and tight safety. Elastic fitting features, such as ankles and wrists, also ensure a secure fit against persistent bees.
For the best protection, invest in cowhide gloves and ankle protectors.
Final Thoughts
Although bees are in nature non-aggressive, working closely with them does come with the risk of getting stung—there's just no way around it.
Investing in a beekeeping suit saves you from this typical beekeeper hitch. Pick one from the brands above and say goodbye to those painful stingers!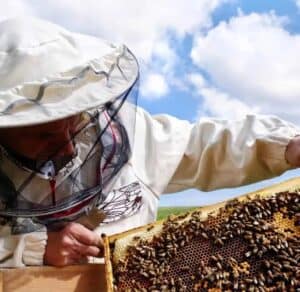 My goal is to show that anyone can take up beekeeping and it can be a very rewarding hobby. I strive to share my experiences and answer any questions you may have.