Best Deluxe Beekeeping Kits
So, you decided to plunge into the world of honey bees? Great decision! But before you go ahead and click "buy now" on the first beekeeping kit that looks cool, there are a few things to consider.
Buying a bee hive starter kit is the easiest way to get into beekeeping, but not all beekeeping kits are the same. As a beginner, you want everything included to avoid the need to buy any extra accessories. With the numerous beekeeping kits on the market, it's difficult to pick the right one.
But don't worry, we're here to help. In this guide, we'll review some of the best deluxe beekeeping kits out there. So, let's jump in.
What to Look For in Beekeeping Kits?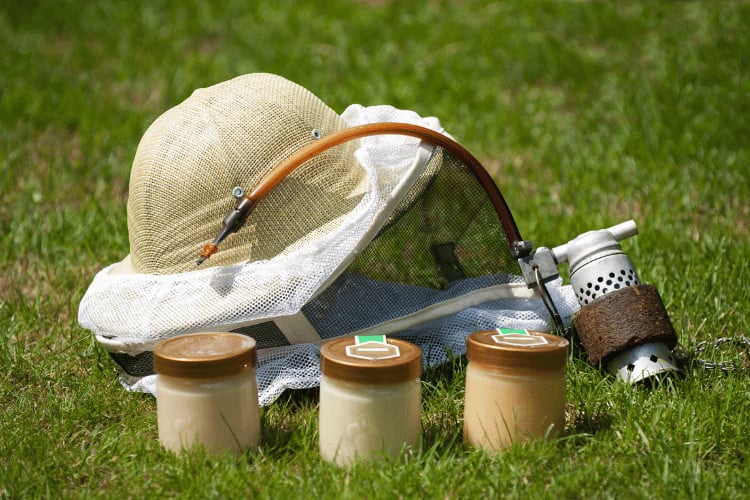 If you're new to beekeeping, the last thing you need is to find yourself struck by unexpected costs or amendments after your honeybees have moved in.
That's why you must ensure you have the right tools and equipment on hand to make a smooth entrance to the world of beekeeping.
Let's look closely at what you need to consider before purchasing your beekeeping kit.
1. Type
There are various types of beehives; the most common are the Langstroth hive, the top bar hive, and the Warré hive.
Langstroth hives are the most commonly used type, which is why they're most suitable for beginners.
Meanwhile, top bar hives might be easier to manage and maintain as they don't require heavy lifting. So they might be better for senior beekeepers.
Some beekeepers prefer the Warré hive because it mimics the bee life in the wild. Warre hives also offer extra protection for your colonies in extreme hot or cold weather.
2. Size
Regarding size, you should opt for beehives that can hold ten frames at least. The required size highly depends on how many bees you wish to keep.
For example, ten-frame beehives offer more room for honeybees to make honey and brood. Additionally, most hive accessories are made for ten-frame hives. However, they demand a lot of heavy lifting, and you probably won't be able to move ten-frame boxes on your own.
On the other hand, eight-frame beehives weigh less, and their compact size makes the honey more accessible to winter bee clusters.
Yet, they're not available everywhere, like the ten-frame hives, and you'll have to move and inspect more boxes.
3. Assembly
The main point behind beekeeping kits is to provide everything a beekeeper needs in one pack. Though, some hives require assembly, which might not be optimal for beginners. 
So, if you're just starting, opting for fully assembled and painted beehives would be best. Pre-assembled beehives also allow you to see the quality of the material before purchasing.
You can assemble your own beehive if you're down for some construction. That way, you save more bucks as unassembled hives are usually cheaper, and you can paint the hive yourself.
Anyway, if you purchase an unassembled kit, ensure the kit comes with clear instructions for assembly.
4. Quality of Components
Look for beekeeping kits with high-quality components. For example, go for kits with cedar and pine wood parts, metal roofs, and telescoping lids. Stay away from kits that come with poorly structured parts and plastic foundations.
High-quality beekeeping kits may cost more upfront, but they're worth the investment.
5. Availability of Essential Components
Beekeeping kits range from basic to deluxe ones.
Basic kits usually include the minimum required supplies to get you started. Meanwhile, deluxe beekeeping kits come with all the bells and whistles to get a colony through its first year.
Deluxe kits are generally more expensive, yet they should save you the hassle of looking for extra tools or amendments.
Here are the essential components of a beekeeping kit:
Beehive: Home for your bees
Bee suit: For protection from bee stings
Smoker: To calm down the bees before working on the hive
Hive Tool: To open the hive and remove the frames
Frames: The foundation on which bees build their honeycomb
Gloves: For protection against bee stings
Boots: Heavy-duty boots to prevent bees from entering the suit
Bee brush: To brush bees off of tools and frames
Queen catcher: A tool that lets you catch and isolate your queen with ease
Feeder: To feed the bees during winter
Bear in mind that some components are only available in deluxe beekeeping kits. For example, basic kits might not include a queen catcher or a full-body suit.
Top Deluxe Beekeeping Kits
In this section, we'll review some of the best deluxe all-in-one beekeeping kits in today's market. Whether you prioritize ease of use or extra tools, you'll find something that fits your needs.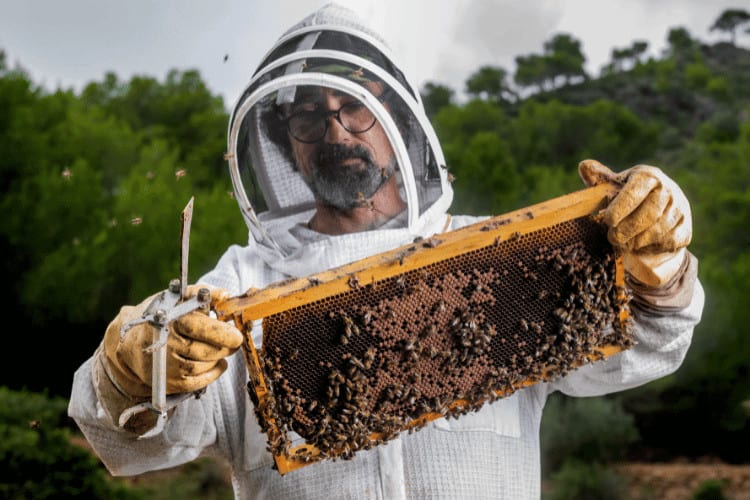 Let's start with our favorite pick; the UCAREM beekeeping kit. We think this is one of the top deluxe kits in today's market, and that's for several reasons.
It includes all the essential tools for any beekeeper, making it an excellent choice for novice and experienced beekeepers.
Moreover, the UCAREM kit contains all the equipment you need for your first apiculture year. That includes a varroa checker, scrapers, brushes, a bee finder, and more.
Here are some of the tools included in the UCAREM beekeeping kit:
Gloves
Smoker and smoker pellets
Beehive stands
Easy check
Bee feeder
Honey strainer
Honey gate
Queen marking tube and cage
Three queen marking pens
Entrance reducer
L, J, and thumb hooks
Uncapping tool roller
Fork and scraper
Cleaning shovel
One thing that stands out about the UCAREM kit is that it comes with a full-body suit in different sizes. Looking at deluxe beekeeping kits, I found that not all come with full-body suits. Even if they do, they're usually a one-size-fits-all.
Pros
Full-protective body suit with various sizes
New-invented beehive stands
Versatile and suitable for beginners and experienced beekeepers
Cons
The camo design of the suit makes it hard to spot bees when they land on it
The 10-frame bee hive and supplies starter kit from Honey Lake is a popular choice for beginner and experienced beekeepers. The kit includes everything to help you start beekeeping from scratch and also has all the extra tools that experienced beekeepers like.
The kit includes the following items and more:
10-frame beehive
Veil
Gloves
Bee smoker and pellets
Uncapping fork
Scraper
Brush
Honey gate
Queen cage
Queen marking tube
We liked the construction of the 10-frame beehive as it's made from cedar wood. It's durable, safe for bees, and yet stylish. The veil's 360° brim design is also impressive as it offers decent protection from bee stings in all weather conditions.
Even though the kit requires assembly, Honey Lake made the construction work much easier with the premium dovetail joints and pre-drilled holes.
Pros
High-quality deep box
Excellent value for money
Durable waterproof telescoping cover
Cons
No full-body suit
Requires assembly
The beekeeping supplies starter kit from Blisstime is another decent option for those who want a durable and comprehensive set of tools.
With an incredible value for money, Blisstime added pretty much every essential tool in this kit, including the following:
Smoker
Veil
Smoker pellets
Scrapers
Two uncapping forks
Queen marking tube and cage
Beehive traps
Frame grip
Gloves
While checking out this kit, we couldn't help but admire the high quality and durability of every piece.
The hive grip has wooden handles for extra comfort. Protective gear like the gloves and the veil are thick and durable for extra protection.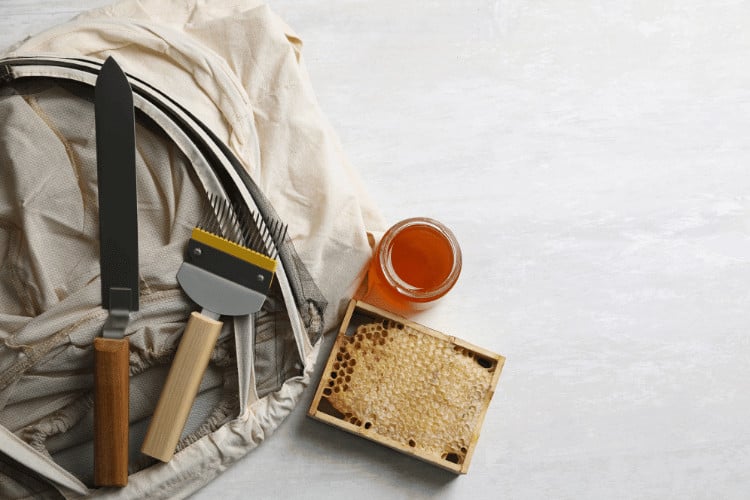 I liked the tool bag as well. It has multiple pockets made from sturdy Oxford cloth material, which is sturdy and easy to clean.
The main downside was the smoker. The stainless steel sheet is pretty thin, so it might not withstand the test of time.
Pros
High-quality and sturdy material
Wooden and ergonomic design
Multi-pocket organizer tote bag
Cons
Lacks a J-hook
Smoker's quality is questionable
The Little Giant 10-Frame Deluxe Beginner Hive Kit is an excellent option for anyone looking to get started in beekeeping. The kit includes all the essential beekeeping components and some extras:
We must give Little Giant credit for including such an informative and straightforward book like Beekeeping for Dummies in the kit. The book includes all the necessary instructions for building beehives and guidelines for all phases of honey production.
All in all, I think this kit strikes the perfect balance between beginner and advanced kits. It comes pre-assembled, so there's no need for a DIY project.
It also includes all the essentials to get started, and the hive and frames are made from high-quality and durable material.
However, the kit lacks a full-body suit and a queen excluder, so you'll need to buy them separately.
Pros
Pre-assembled hive
Easy to use
Includes all the essential tools to get started
A copy of Beekeeping for Dummies book to help beginners start beekeeping
Cons
No full-body suit
No queen excluder
The 10-frame starter kit from BeeCastle is another excellent beekeeping kit for beginners and seasoned beekeepers alike.
The kit offers all the required components to start beekeeping and some extras like a full protective suit. Here are some of the tools included in BeeCastle's 10-frame kit:
Bee smoker and pellets
Frame holder
J, L, and thumb hooks
Beehive grip
Bee brush
Cleaning shovel
Fork, scraper, and Z tool
Two queen cages and one queen mark tube
Feeder
Honey gate
Honey filter
Hive beetle trap
The kit comes with a pre-assembled deep box, so you won't need to construct anything yourself. The box is also wax-coated, providing extra protection against moisture and diseases. 
I like that they included a queen mark tube and a cage because it makes dealing with your queen much easier. The tube is also made from safe and healthy materials and has smooth walls so that they don't harm the rest of your bees.
While many beekeeping kits only come with gloves and a veil as protective gear, BeeCastle added a jacket and pants to this kit. I think this is a great addition as you technically won't need to buy anything extra.
Pros
Full body protective suit
Extensive supplies tool kit with more than 20 components
Excellent finish and high-quality material
Straightforward instructions for an easy setup
Cons
A bit expensive for beginners
Pants won't fit every size
The POLLIBEE 22 pcs beekeeping kit is a great option for beginner beekeepers. It includes an impressive set of essential tools to get you started, including the following:
Bee smoker
Six packs of smoker pellets
Three hive tools
Queen bee cage and marking tube
Bee brush
Shovel
Gloves
I think this kit is one of the best out there for beginners. It includes 22 carefully selected tools that help anyone cover the required beekeeping tasks.
I especially liked the bee smoker as it's very robust and well-built. There are also six packs of smoker pellets, so you won't have any trouble with the fuel.
POLLIBEE did an excellent job designing their queen bee marking tools. The marking tube has a foam pad to protect the bees, and the queen cage is transparent and easy to use.
The main downside of this kit is the gloves because they don't fit smaller hand sizes. The kit also lacks a veil and a protective suit, so you'll have to buy them separately.
Another thing I didn't like is the fact that they claim the kit includes 22 pieces while six components are the same item; smoker pellets.
Pros
Good value for money
Excellent bee marking tools
Robust bee smoker
Cons
Gloves won't fit small hands
Lacks a veil and a protective suit
To Sum Up
So there you have it: the best deluxe beekeeping kits on today's market! If you're ready to start beekeeping, choosing the right equipment is crucial.
Forget about the basic starter kits; with these deluxe beekeeping kits, you'll be more than ready to dive into beekeeping.
Our top pick is the UCAREM beekeeping kit. It comes with all the essential beekeeping tools and some extra supplies. So it's an ideal option for beginners and experienced beekeepers alike. 
We also like that it comes with a camo full-body protective suit available in three different sizes to fit every beekeeper.
The 10-frame starter kit from BeeCastle is another decent option. The kit includes everything you need to get started in beekeeping and comes with a full-body suit and a queen catcher.