Best Gloves for Beekeeping 
As a beekeeper, my apparel is my biggest investment. No matter how careful and experienced I am in handling my beehives, I can never be too safe from a bee sting. That's why it's essential for me, and any other beekeeper, to invest in the right suit, mask, and gloves.
High-quality gloves are an absolute necessity whenever I'm going to stick my hand in a beehive. I need something that would protect my hands and forearms from accidental bee stings, and so do you.
So, to help you find the perfect pair, I've gathered some of my favorite beekeeping gloves on the market.
If this is your first pair and you're not sure how to choose your gloves, I'll explain all the necessary factors that you need to consider when buying a pair of beekeeping gloves.
Top 9 Gloves for Beekeeping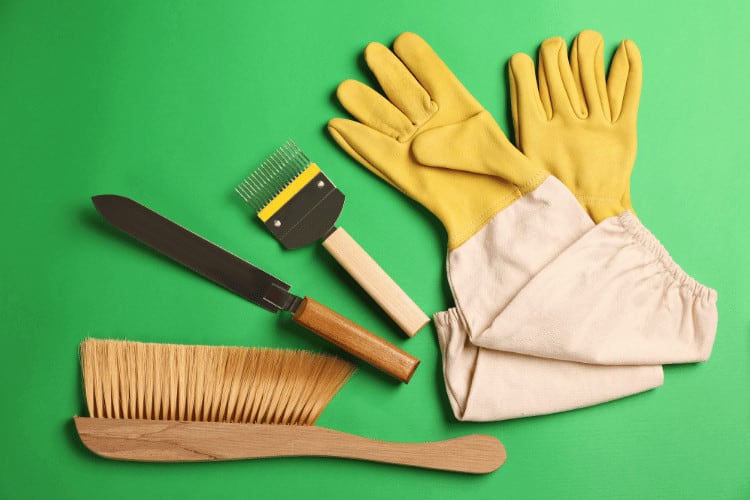 As a beekeeper, I've tried almost every pair of gloves I could find on the market throughout my career. Based on my personal experiences and reviews of other beekeepers, I've created a list of the best beekeeping gloves on the market.
I made sure to include a variety of options that cover different materials, prices, and levels of beekeeping expertise.
So, if you're looking for a pair of gloves worth investing in, you're sure to find them right here.
Best Goatskin Beekeeping Gloves
Goatskin is the best type of leather to use in beekeeping gloves. It's thin and malleable, yet safe and long-lasting. Here are my top picks for goatskin beekeeping gloves.
The high quality and low price of this pair of gloves make it one of the most popular beekeeping gloves within the beekeeping community.
Many beginners start with this pair because it's not much of an investment, yet it helps them explore their beehives safely without worrying about painful bee stings.
VIVO's BEE V103 sizes range from S to XL to fit most hand sizes perfectly. However, some beekeepers find the S size to be too big or the XL to be uncomfortably snug. If that's the case with you, then the next pair is your go-to.
Another popular option is Humble Bee's goatskin beekeeping gloves #112. This pair comes with ventilated cuffs to prevent your hands from getting all wet and sweaty.
Humble Bee provides a wide range of leather beekeeping gloves, which come in all sizes, from XXS to XXXL, to fit every beekeeper.
This particular model is popular among expert beekeepers. Whether beekeeping is your career or you do it as a hobby, you'll enjoy the comfort of this pair of gloves.
With long canvas sleeves for maximum flexibility, the beekeeping goatskin gloves from Mr. Bee are a great pick. They cover your forearm all the way up to your elbows, and they come with a wide ventilation section around the cuffs to ensure that your hands stay cool and sweat-free.
However, the sizes of this pair of gloves are only limited to M, L, and XL. So, even though they target the majority of sizes, they won't fit smaller hands.
Forest Beekeeping managed to provide premium beekeeping gloves at budget-friendly prices. Their goatskin leather gloves are perfect for those who value their safety, yet don't want to break the bank for a pair of gloves.
These gloves were designed to cover the needs of all beekeepers, from hobbyists to commercial professionals. You'll find them extremely lightweight and available in many sizes, from XS to XXL.
As the name implies, the sting stopper from Foxhound Bee Company is created with the sole purpose of protecting your precious hands from any bee stings.
This pair features double layers of goatskin to ensure your safety and last for a lifetime.
The best part about these gloves is that you don't have to clean them by hand. Put them in your washing machine on a delicate cycle and let them air dry until you need them again.
This pair is perfect for beginners. The minimal design and full forearm coverage offer you everything you need as a new beekeeper. In my opinion, this pair of goatskin gloves is the perfect start to ease your way into beekeeping.
The simple design of the gloves and the loose cuff with elastic ends allow maximum comfort and protection without feeling restrained.
Best Cowhide Beekeeping Gloves
I usually recommend cowhide for beginners who are too skeptical about goatskin and would only feel safer with thick cowhide leather. These also are the perfect choice for professional beekeepers who work with different types of bees.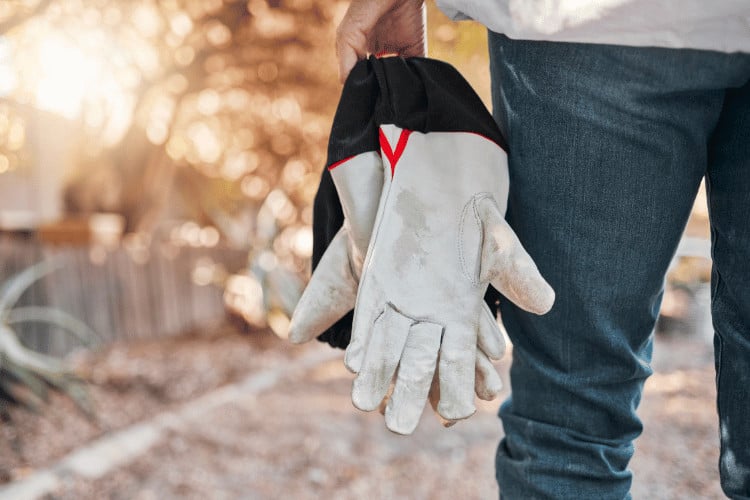 Some types of bees, like Africanized bees, are known to be more aggressive than other honey bee species. So, if that's the case, you should get an extra layer of protection.
The bestselling cowhide beekeeping gloves are the ones sold by Natural Apiary. Their palms are made of thick, sting-proof cowhide to protect your hands from all bee stings.
These gloves also feature a long sleeve that goes beyond your elbow for full coverage, and a mesh section for good ventilation on hot summer days.
My second favorite pair of cowhide beekeeping gloves is the Humble Bee #113, which features reinforced cuffs. Not only do they fully protect your hands against bee stings, but they're also extremely durable.
The reinforced cuffs provide extra comfort to your wrists and sturdiness to your gloves to live longer. Of course, like every Humble Bee pair of gloves, this pair comes in many sizes, from XXS to XXXL.
Best Nitrile Beekeeping Gloves
Disposable nitrile gloves are usually used by experienced beekeepers who know how to handle their bees. Since these gloves are disposable, they're perfect if you have multiple beehives and want to reduce the risk of cross-contamination.
There are plenty of options when it comes to nitrile gloves, but the following brand is my favorite.
BeeSure's nitrile gloves are, so far, the best type of disposable gloves I've tried. They're flexible and allow maximum mobility to handle your bees carefully. Additionally, these gloves have textured fingertips for a non-slip grip.
If you're worried about puncturing your gloves, you could wear double layers for extra protection.
How to Choose the Best Gloves for Beekeeping?
Choosing the right gear is one of the most important investments for any beekeeper; both beginners and pros. So here are a few pointers to help you pick out the pair that suits you best.
They Fit You Well
Usually, I see many beekeepers, especially beginners, fall into the mistake of buying a pair of gloves that's way too big as an extra line of defense against bee stings. Since the gloves aren't in direct contact with your skin, you won't feel the bee's stinger if they ever attack you.
Although that concept is true, it's not the most efficient. When you buy a pair of gloves that are too big for you, you'd be trading comfort and precision for a slightly higher chance of sting protection. Instead, opt for a pair of gloves that's well-fitted and snug.
When your gloves fit your hands just right, you'll have better control when working with your bees. You won't have to worry about frames slipping from between your fingers or the extra cloth getting caught on the wooden frames.
As for the light stings that might reach your hand under the gloves, don't worry about it. We've got you covered in the next point.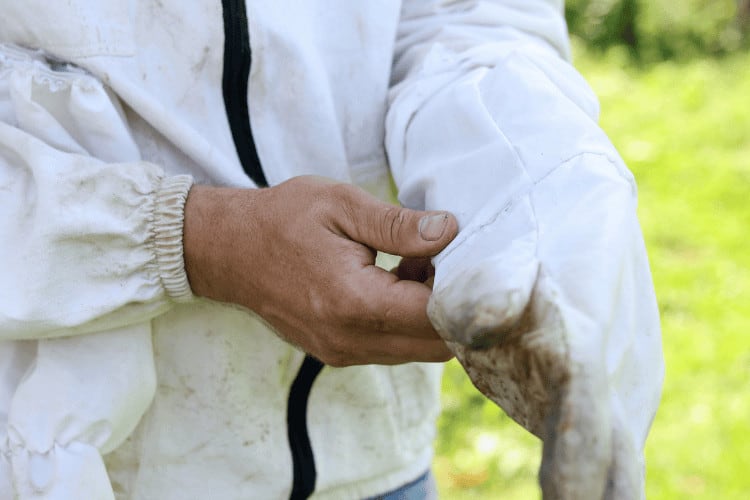 They Prevent Bee Stings
This point is important for new beekeepers because they're not experienced enough to work with bees without provoking them. First of all, your gloves need to fully cover your hands and forearms.
That way, your gloves would provide a thick layer of protection for your hands to minimize the impact of bee stings, if not prevent them completely.
As you become more experienced, you learn how to keep your bees calm and how to properly use a bee smoker if needed. When you do, you could switch out your thick gloves to a thinner material.
They're Breathable
When you're working outside in the sun with a bee suit, a hot bee smoker, and thick beekeeping gloves, it won't take long before you start sweating.
Of course, aside from making it difficult to handle your beehives, it's never comfortable to work with sweaty hands. That's why it's best to choose a pair of gloves that allows decent ventilation, especially if you're in a humid area.
They're Made of High-Quality Material
Beekeeping gloves must be made out of durable, high-quality material to protect your hands and withstand your regular work routine. Some of my favorite materials for gloves are:
Leather
Leather is the most popular material for beekeeping gloves, and for good reason. Not only are leather gloves thick and resistant to bee sting, but they're also made from a natural, breathable material.
This makes a pair of leather beekeeping gloves your perfect match on hot days. You'll find leather gloves made of goatskin, which is a relatively thinner material, or cowhide, which is on the thicker side.
Leather gloves are perfect for beginners to maintain their safety, but their thickness has one disadvantage. Although it's meant to protect you from bee stings, you may accidentally squish bees without noticing while handling their frames.
Nitrile
The other popular option for beekeeping gloves is nitrile. Disposable nitrile gloves are made of thin synthetic rubber, which allows more dexterity and sensitivity.
Since you have more control of your fingers and you can actually feel the bees around your hand, you're less likely to harm a bee by mistake. Consequently, you won't sound any alarms in your beehive, and your bees won't feel the need to attack your hand.
These gloves are the perfect option when you need to do highly sensitive work in your beehive, like handling the queen bee. However, I recommend you shift to nitrile gloves only after you gain experience in handling bees.
The downfall of using disposable nitrile gloves is the lack of ventilation. The synthetic rubber gloves will cause your hands to get all sweaty. You'll also need to cover your forearms since nitrile gloves only cover your hands till the wrist.
Frequently Asked Questions
How Can I Make My Leather Gloves Last Longer?
Choose a pair that includes reinforcement palms or double layers of leather on the palm area, since that's the part that you use the most.
Another tip would be to use a disposable nitrile glove over your leather one. That way, you won't have to wash your leather gloves as often, and consequently, preserve your gloves for longer.
What's the Softest Leather for Beekeeping Gloves?
The softness of the glove's texture depends on the source of the leather, the thickness of the hide, and the leather's tanning technique.
The softest leather you'll ever find isn't commercially tanned with chemicals. Instead, the leather is tanned by an emulsion made from animal brain tissue to break down the outer membrane of the leather. This process is called brain tanning. 
However, these types of leather are extremely rare to find, and their scarcity makes them rather pricey.
Wrapping Up
Whether you've been working with bees for your whole life, or just getting started, it's absolutely essential to always wear your safety apparel. No matter how experienced I am or how comfortable I get around bees, it's always better to be safe than sorry.
So, from one beekeeper to another, invest in your safety apparel. Luckily, you have plenty of options to choose from. Whether you're looking for a specific feature or want something that fits your budget, you'll find the perfect pair of gloves.
Now that you know how to choose the right pair of gloves, check out our articles about the best bee suits and veils to help you get the whole beekeeping outfit.