The 6 Best Honey Extractors: A Buyer's Guide
So, you're so far up into the honey production journey that it's finally time to squeeze the honeycombs to get your honey yield. As a first-timer, you may be looking to buy a high-quality honey extractor to get this task done effortlessly.
I've been there, searching for hours to find the best honey extractors that'll save me time and labor. And now, after years of beekeeping, I'm here to show you my top recommendations!
In this guide, I'll review my six favorite honey extractors on the market, highlighting their features, pros and cons, and what makes each one special. Afterward, I'll offer you a detailed buying guide to help you pick the perfect fit for your needs.
Let's get down to business!
The Top 6 Honey Extractors for Every Beekeeper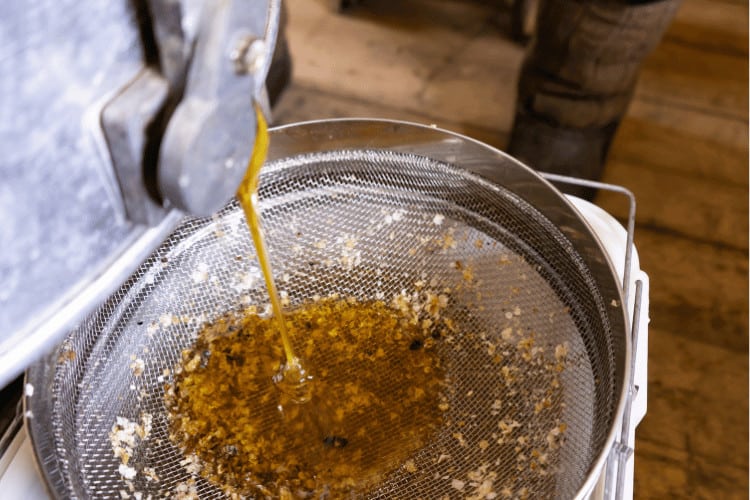 Without further ado, here are our top candidates for the best honey extractors in 2023:
Let me kickstart my list with this highly-rated extractor by Vivo, which was one of the first ones I bought when I was still a novice in the beekeeping world.
What makes it a wonderful choice for a beginner is that it combines a large size with manual operation. So, if this is your first time extracting honey and you want to do some manual work to get that satisfying feeling, this big boy can be perfect!
It's also great for people who need a large capacity since it comfortably holds four shallow frames. If you have deep or medium frames, the extractor can accommodate two.
Other features I appreciated have to do with the design itself. The tool is made of durable stainless steel, which helps it live longer. Plus, I liked how the base is almost 15 inches off the ground, offering ample room for the honey to flow away from the extractor and into a bucket.
The last thing to admire about the Vivo extractor is the warranty. It comes with a one-year limited warranty to put your mind to rest!
Pros
Large capacity is ideal for getting huge amounts of honey (23.75 inches in height and 18.5 inches in diameter)
Available with a transparent lid to enable you to watch it in operation
No need to tip it forward thanks to the strategically placed opening
Mid-range price point
Cons
Tends to move forcefully when in use, which can take its toll on the thin legs
Legs sometimes come with sharp edges
If you don't want to trouble yourself with manually extracting honey, the BestEquip honey spinner can save you time and effort. I bought it when my honey business finally picked up and I was too busy to get my hands involved with the process.
The polished 201 stainless steel tool accommodates up to three frames at once. With its powerful 140-watt and 1300-RPM motor, it promises quick and efficient honey extraction.
You'll also notice it comes with several speed options and silent operation, further boosting your convenience.
What I liked most about this extractor is the high-end finish and extreme attention to detail. It's wear-proof to withstand continuous use, not to mention that its sleek finish and lack of welding flaws prolong its lifespan.
Better yet, you can adjust the height of this extractor to fit different bucket sizes. In addition, you've got a transparent lid to check the progress of the honey extraction while you're handling another task.
Pros
Convenient design features suitable for both beginner and experienced users
Top-notch materials and finish that ensure longevity
A breeze to clean thanks to the smooth body
Sturdy leg construction and fixable feet to prevent tipping over
Moderately priced
Cons
Doesn't come with an instruction manual
There's no way to place a five-gallon bucket under it unless you put something under the legs to lift them
Still in the early stages of running a honey business? Well, your best bet is to invest in a small-capacity honey extractor if you want to test the waters before fully committing to this lifestyle.
The Happybuy electric spinner offers you just that—the drum is only 24 inches high and 15 inches in diameter. Sure, it weighs 40 pounds, which is pretty heavy, but that's because of the motor and the sturdy stainless steel body.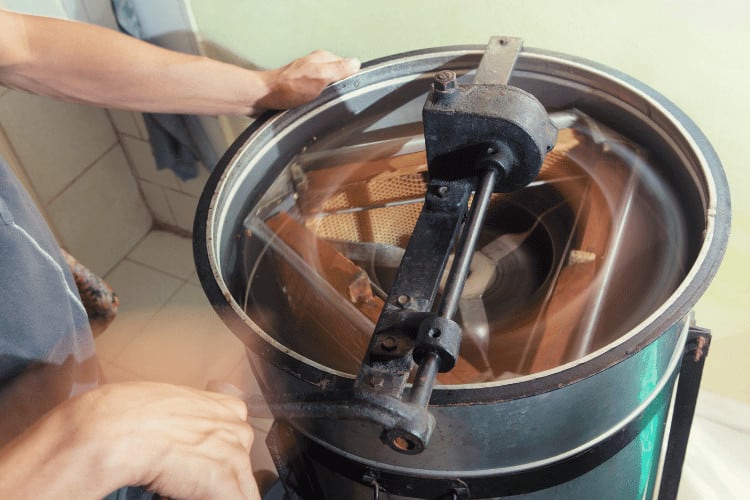 This electric extractor handles two frames. It also comes with a 140-watt motor that promises a high rotation speed for a smooth honey extraction process.
Just like the previous two products, the Happybuy extractor rests on three legs and has a bottom stopper that drains honey when the extraction is over. Yet, my favorite feature is the barrel's conical shape because it releases honey much faster than a standard cylinder.
Pros
A suitable choice for beekeeping beginners
Features food-grade, anti-rust steel for safe use and a longer lifetime
Powerful motor that promises a longer service life and efficient honey extraction
Mid-tier price
Cons
Too heavy for a two-frame extractor
Legs sometimes feel wobbly
Has your beekeeping and honey production business been running steadily for a while now? You may be considering venturing into professional waters, and in this case, I highly recommend you check out the BeeCastle product.
This honey separator has many features to offer a seasoned beekeeper, starting with its four-frame capacity. It efficiently handles four deep or medium honey frames, aiding you with your hectic honey extraction schedule to avoid deadline delays.
I'm also a fan of the built-in speed control center, which allows me to choose the rotation speed as I see fit. This level of control is the dream of every beekeeper!
Plus, I was thrilled to discover that the BeeCastle extractor doesn't mind outdoor use for long periods. I remember using it for long hours in my garden in an especially busy season and was blown away by how it stood in the face of the elements.
Of course, it's all thanks to the rust-resistant stainless steel construction.
Available with a clear lid, food-safe materials, and adjustable height, this bee honey extractor is a beast. Sure, it's a bit on the pricey side, but it delivers amazing value for the money!
Pros
Durable stainless steel build to boost longevity and withstand continuous outdoor operation
Large size and capacity for professional beekeepers
Strong 140-watt motor
Comes with a magnetic lid
Cons
Pricey
Too heavy (48.5 pounds)
If you don't mind giving up a few features for the sake of saving some upfront costs, look no further than the Hardin honey extractor.
This piece of equipment only supports two frames, not to mention that it relies on manual labor. Yet, in terms of durability and construction, the manufacturer doesn't skimp on quality.
The drum is made from 16-gauge stainless steel that promises to survive for years by your side. As for the lid, it's a flip top constructed from Plexiglas, which is sturdy and allows you to sneak a peek to ensure all's good with your honey extraction.
With an optional stand, a basic yet efficient design, and a lightweight body, the Hardin extractor can be the ideal choice for a beginner with a tight budget.
Pros
Simple, lightweight design for first-time beekeepers
High-quality stainless steel that promises longevity
Great money-saving choice for people on limited budgets
Cons
Only holds two honey frames
Doesn't come with instructions, though it's easy to assemble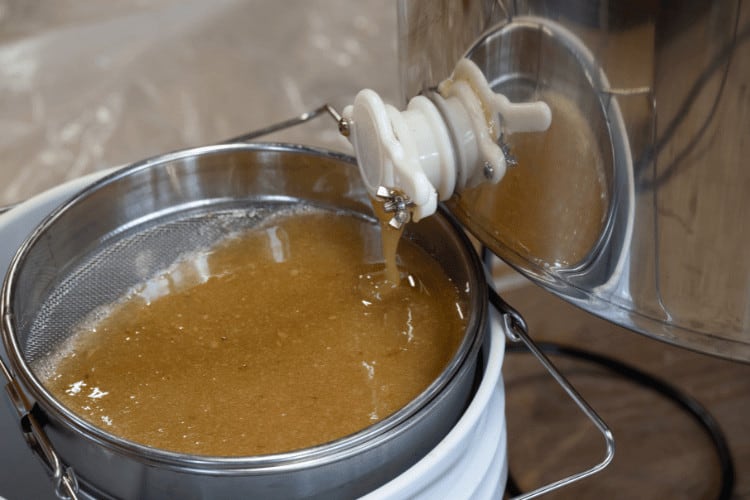 During my experience as a professional beekeeper, it was hard to find a honey extractor as strong, efficient, and user-friendly as this Vivo product. It's pretty similar to my top choice but with extra features that make it the top premium choice.
For starters, it's powered by a monster of a motor (120V AC), yet it has a built-in cooling fan and operates silently. It promises fast honey extraction, quickly making room for your next batch. What further speaks of its productivity is that it fits eight small frames and four larger ones!
I can't help but also admire its sleek, modern-looking finish that doesn't come with flaws like bumps, rough edges, or visible welding spots. It promises longevity and makes it simple to clean the steel barrel with a mere wipe.
Just like its less expensive manual sibling, this Vivo extractor is available with a one-year limited warranty. Even better, I've tried reaching out to Vivo's customer support and was blown away by its responsiveness and attention to all my concerns.
Overall, the Vivo electric honey extractor is on the expensive side of the spectrum. Yet, I know the high price is justified since it delivers top-notch performance and features a durable design!
Pros
One of the highest-performing honey extractors on the market—a convenient choice for serious beekeepers
Holds up to four deep frames and eight shallow ones for extracting large quantities of honey
Elevated around 17 inches from the ground, allowing a five-gallon container underneath
Top-notch materials and finish for a premium look and feel
Silent-operating 120V motor with a cooling fan to keep overheating at bay
Cons
The priciest option on this list, but not unfairly!
The valve could be lower to allow the last bit of honey through
What You Should Look for in a Honey Extractor
I know that choosing the right honey extractor for your use can be confusing, especially since all the products I reviewed get the job done.
Still, thinking about some details and factors may help you make a decision faster, which is why you should read this section before whipping out your cash!
Here are some things to consider before shopping for a honey extractor:
Tangential vs. Radial Honey Extractor
In my opinion, the first aspect you should think about is the type of honey extractor you're about to buy. On the market, you'll find two options: tangential and radial. But how are they different, and which one should you go for?
Tangential Extractor
In tangential extractors, you have to place your honeycombs in a vertical fashion. Since one side of the frame will be facing outward, the honey will be extracted from this face as the machine spins.
As a result, you'll have to go back and flip the frame to get the honey on the other side. Of course, this is time-consuming and requires manual labor.
Yet, on the plus side, tangential extractors are usually budget-friendly, making them a good option for beginners.
Radial Extractor
On the other hand, radial extractors have the top bars of honey frames facing outward. So, they allow the honey to be flung from both sides of the honeycombs, which is a lot more efficient.
That's why they can be perfect for busy beekeepers or those running a large business.
These extractors don't come without cons, though.
They're more expensive, making them a challenge to acquire if you're a hobbyist. Plus, they don't work seamlessly with uneven honeycombs and may cause them to break.
Number of Frames
Next, consider the number and depth of frames that'll go into the extractor, as its capacity should match your use.
As you know, honeycomb frames are shallow, medium, or deep. And, the extractors on the market are available with two-, three-, four-, or eight-frame capacities.
So, make sure the one you'll get accommodates the frames you have.
Other Features
Finally, don't forget to take a few other features into account, as they could highly impact the extraction process:
Manual vs. electric operation
Lid type and material
Barrel durability and finish (weather-proof, rust-resistant, etc.)
Barrel height and whether or not it's adjustable
Leg construction and steadiness
Warranty details
Price
The Final Verdict
I remember vividly how challenging it was to shop for my first honeycomb spinner, so I understand your struggle. Hopefully, after going through my list of the best honey extractors, your decision-making process will be smooth!
My top recommendation is the VIVO Honey Extractor. This manual equipment can be a great introduction to the world of making and selling honey. It has a reasonable price, durable parts and body, and enough capacity for a beekeeping beginner.
Alternatively, you can go for the VIVO Electric Honey Extractor if you want something on the high end. With electric operation, large capacity, and other high-quality features, it can be the perfect choice for a more experienced honey maker.