The Best Honey Storage: 7 Honey Jars and Pots You Need To Consider
How would you feel if I told you the container you use can make or break your honey? It's true!
While honey doesn't really spoil, it can ferment or crystallize, and most of the time, this results from heat or an inadequate storage environment.
However, if you have the correct honey container, you can help prevent this from happening!
So, what are the best honey storage ideas and products, you ask?
Let's dive together into the best products, followed by tips and tricks to help you choose the best one in the future.
Ready? Let's start our sweet journey!
7 Honey Storage Containers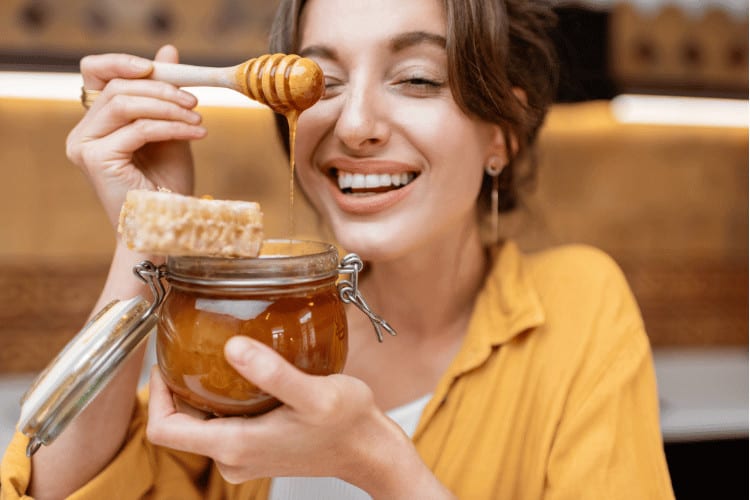 Whether you prioritize design or functionality, you'll find something you like among these seven products:
If this is your first time hearing Le Creuset, you need to buckle up! Le Creuset has been around since 1925; since then, its products have turned into kitchen favorites!
Le Creuset pioneered durable, colorful home products like this lovely honey pot! This container has its spiraling silicon dipper to help you gather and drizzle as much honey as you need.
Also, while this honey pot is essentially stoneware, it contains less than 1% porosity, making its moisture absorption almost non-existent. This can help you avoid cracking or rippling along the interior.
Finally, the enamel surface of the outer layer is also non-porous and scratch-resistant, making it easy to clean and resistant to odors and flavors.
Pros
Less than 1% porosity
Dishwasher safe
Microwave safe
Durable
Non-stick interior
It comes with its dipper
Cons
This is a 16oz pot, which can be a tad too much for some
The side opening means it's not air-tight
Don't feel like having a stoneware honey pot? Well, how do you feel about glass? If you're up for it, this Mkono glass honey jar is it!
This product is special because it's made entirely out of glass. Not just the jar but the extra dipper, too.
Glass is an excellent material to store your honey in as it's super easy to clean and is primarily non-porous. This means you won't have to deal with any hidden residue or unpleasant odors seeping in.
Moreover, they added a tiny side opening to help you pour the honey out if you don't want to use the dipper. Lastly, the glass is transparent, so you can always watch for how much you have left and the honey's condition.
Pros
Transparent
Super easy to clean
Comes with a glass dipper, too
Cons
It's not air-tight
It can easily crack and break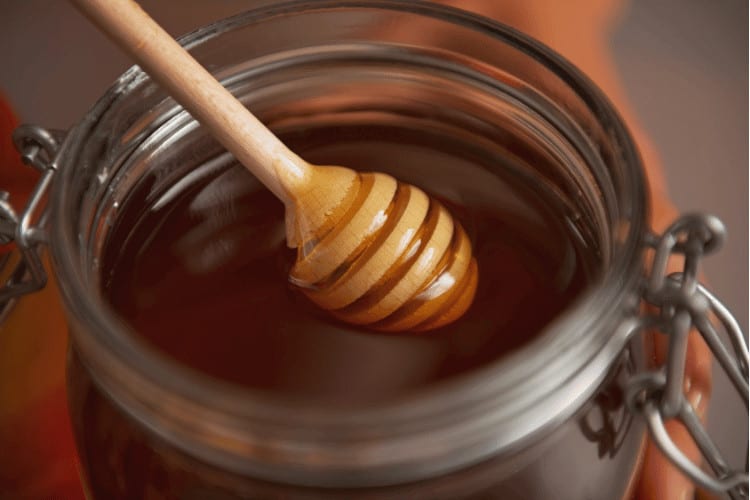 Did you know you don't have to settle for regular-looking jars or pots? It's true!
You can have a honeypot that's shaped like a bee on your dinner table. The container where you can store the honey is made of glass, so you won't have any trouble keeping it clean.
As for the head of the bee and its wings, they're made of high-quality metal to ensure the product's durability. The bee's wings cover the top of the pot, which has a tiny opening for the free dipper it comes with!
Because of how small it is, you can use it for multiple purposes. Today, it's honey; next week, it's tea; and after that, it could be sugar!
Pros
Incredible and unique design
It comes with a spoon dipper
Easy to clean
Good for gifting
Cons
A bit too small
No air-tight seal
Is the luxurious honeypot a bit too much? Do you want something more subtle and leans more toward the cutie side?
Well, step aside for the Heart & Home ceramic jar! This cute jar has a lovely honeycomb design with a pastel yellow color and little bees flying around.
Moreover, it has a pine wood dipper with a little opening to facilitate usage. The best part about this honey pot? It's microwavable!
So, if you want to warm up the honey a little— I won't judge —you can easily do so.
Pros
It looks cute
It comes with a dipper
Durable
Microwave safe
Cons
The ceramic could be porous
It can hold 16oz, which can be too much
Another option that combines functionality with aesthetics is the Clapper ceramic jar. This one offers more than a cute design or a luxurious look; it provides elegance.
The jar, lid, and spoon are all made of glazed pottery, making it both beautiful, easy to clean, and durable.
Moreover, the soft honeycomb pattern isn't just a quick nod to the bees; it's a simple detail that elevates the jar without being too ornate—with color or design.
Finally, you'll be pleased to know that the Clapper jar is dishwasher- and microwave-friendly!
Pros
Elegant design
Easy to clean
Microwave-friendly
Dishwasher-friendly
Cons
Can be porous
The lid isn't tightly sealed
Hunnibi is one of the new players on the scene. The owners founded the company to provide durable bee and honey products at affordable prices.
The result? This amazing honey dispenser!
If you're tired of using a dipper or don't want to deal with spillage, a dispenser is your first answer!
The time of shaking the jar and scrubbing for the little bit of honey at the bottom is over. Now, all you have to do is press the little release handle, and it comes flowing out of the base.
The flow stops once you let go of the trigger, leaving no messes or drips behind. Moreover, this is a glass container.
Hence, you won't have trouble cleaning it or worrying about unwanted smells. Plus, the glass is durable and designed to look like a honeycomb, adding some aesthetic value to the pot.
Finally, this is an air-tight container because there are no side openings or a need for a dipper!
Pros
Small and easy to handle
Transparent
Air-tight to keep the honey fresh
No spillage
Cons
Glass can crack and break
Our last contestant here is a jar that combines the dispenser's air-tight seal and the dipper's usability. How so, you wonder?
You see, the Aieve mason jar merges its dipper with the lid itself! The dipper is simply connected to the center of the cover, with its handle protruding from the other side.
As a result, there isn't a need for a side opening to place the dipper. The jar is made mainly of glass, with the lid and dipper as exceptions; they're stainless steel.
And I know what you're thinking: metal reacts with honey and changes its taste. Well, that's a myth!
While many people prefer wooden spoons and dippers over metal ones because of that myth, it doesn't make it accurate.
Pros
Smart design
Comes with a dipper
Air-tight seal
Easy to clean
Cons
What to Consider Before Buying a Honey Container
Now that you know what's the best in the market, it's time to learn what to keep in mind before buying one. Here are the main factors: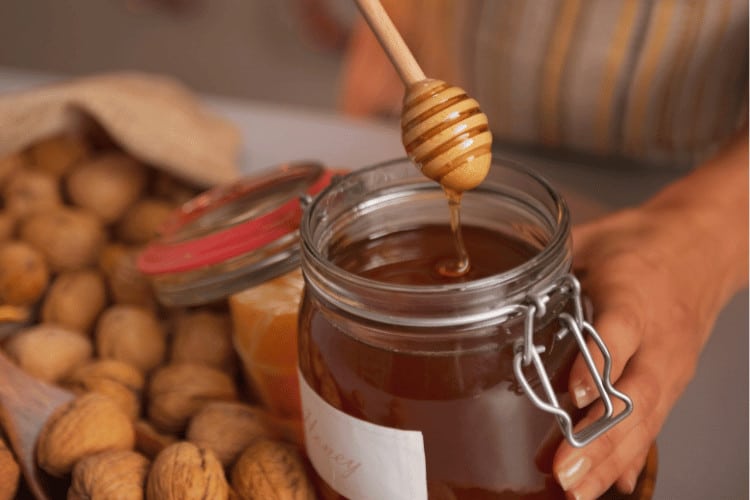 1. Material
As you might've noticed earlier, there are various materials for honeypots. Usually, my top choice for storage would be glass.
Glass is non-porous, easy to clean, and doesn't pick up any scents or flavors. Hence, it's the top when it comes to keeping honey smooth and clean.
The second best for me would be ceramic or stoneware, as they're great insulators, and most are dishwasher-friendly and even microwave-friendly. This means you could use them for more than storing honey.
2. Size and Capacity
How many people live with you? Is it a big family? Just you? Or are you selling? The answer to this question will help you determine what size you need to get.
Generally, small sizes are perfect for handling and ease of use. However, they're not so practical if you have a large family or planning to sell.
On the other hand, a big jar could mean you won't get through the honey quickly enough, and it might crystalize or ferment. Finding the right balance can solve this problem.
3. Seal
As mentioned above, heat can be one of the reasons your honey degrades. However, another factor to consider is humidity.
When your honey is left in an inadequate storage environment with a semi-open jar for long, it can quickly ferment. Now, while some people want this, others love their honey as it is.
So, if you have large quantities of honey and need to store them for long periods, then it's best to go for glass jars. They can protect the honey, ensuring no moisture or other elements can affect it.
A Sweet Recap
Now that you've reached this part, do you feel more knowledgeable about the best honey storage?
Well, to help remind you, we have some ceramics and stoneware honeypots like Le Creuset, Heart & Home, and Clapper's. 
If you're looking for a glass jar, you can go with Mkono or Aieve's. On the other hand, if you want a glass dispenser, not a pot, the Hunnibi dispenser can be a great choice.
Lastly, you can throw the pots and jars aside and place a bee-shaped container on your dinner table to hold your honey!