Selling Honey: How Much Money Can You Make? A Simple Guide
Selling your honey is by far the most common method of making money as a beekeeper, especially as a beginner. But how much money can you sell your honey for?
You can earn between $1 to $2.60 per ounce or $5 to $11 per lb selling your honey direct to retail consumers. The prices will vary depending on the floral source, if the honey is non GMO certified organic, if the honey is flavor infused, and your local region.
There will always be a demand for local raw honey. Even small scale beekeepers are able to profit from the sale of honey. I'll explore realistic expectations for how much money you can make selling your honey.
How Much Money Can You Make Selling Honey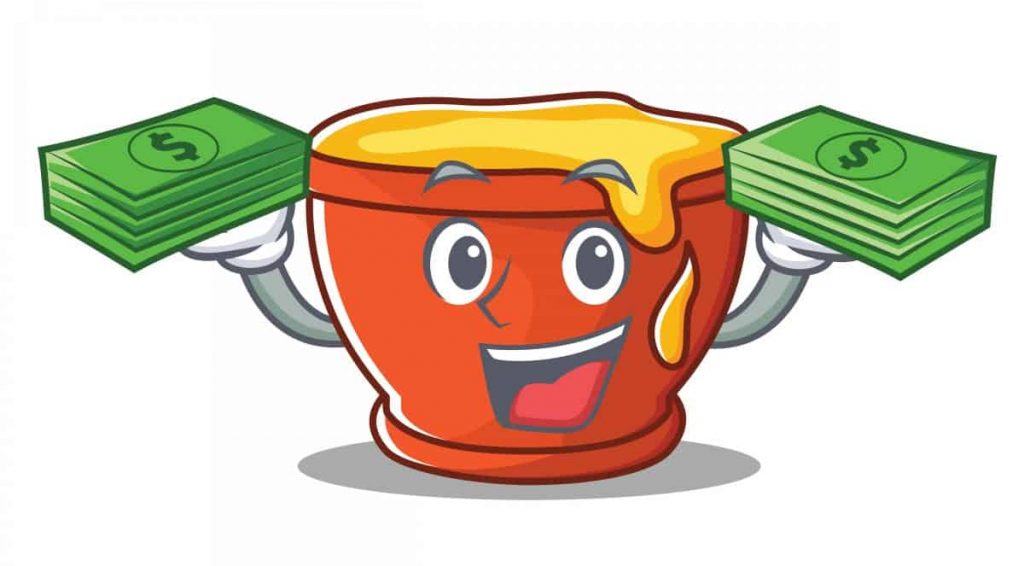 Congratulations, you have finally harvested your honey and now have too much for yourself and would like to sell some. The key now is to figure out how much money you can sell your honey for without forgetting about the cost of packaging and labelling.
The price you sell your honey for will always depend on your local region and the type of honey you're selling. Whether you sell raw wildflower honey, flavored honey, herb infused honey, organic honey, or creamed honey, will impact how much money you make.
Most beekeepers start by simply selling their raw honey. I recommend not just selling raw honey but think about some of the different types I mentioned above. Your local competition may not be selling some of these types and it could be very profitable for you.
It is surprising how much more expensive herb infused honey for instance can cost. To purchase raw honey infused with ginger (very popular), turmeric, or black seed is quite expensive and not available in most regions.
And since you are already selling honey, hold up for just a sec, I wrote a practical guide on how much money you can make selling raw honeycomb, and a guide on buying honey and reselling it that I encourage you to read!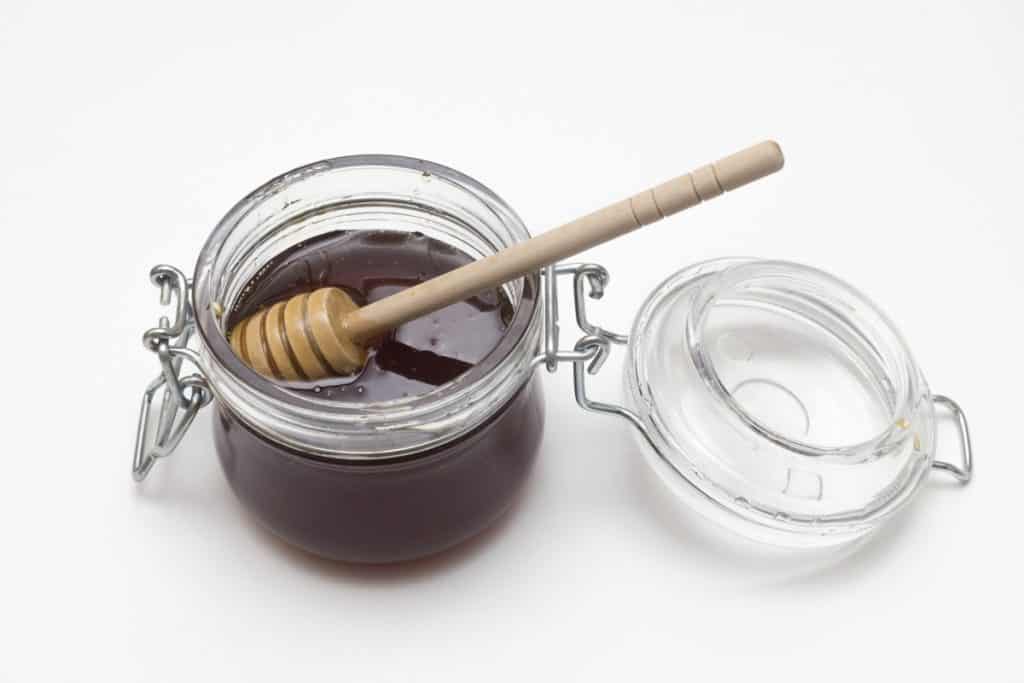 You can also fetch a higher price for raw honey from different floral in your local area. For example in my area we have buckwheat honey and it sells for more money then wildflower honey. Buckwheat honey is a darker honey that has a strong earthy flavor and is great in coffee, but you can't get buckwheat honey in all regions.
There is such a wide variety of different flora that is turned into honey its quite amazing. Here is just a few:
White Clover
Sunflower
Rosemary
Lavender
Blackberry – this one I have to order, I love blackberries
Orange Blossom
Sourwood
Cranberry
As I mentioned with the buckwheat honey, some of these honeys will demand a higher price depending on the supply and demand in your local region.
To get an idea of what your raw honey could sell for here is the price range based on Country. I've researched price ranges based on the sale of raw honey direct to the consumer, not wholesale.
United States – $1 to $2.60 per ounce or $5 to $11 per lb. You can demand a higher price for non GMO certified organic, flavor infused, or specialty honey such as rosemary. These prices are in US dollars.
Canada – $2 to $4 per 100 grams or $15 to $20 per kg. You can demand a higher price for non GMO certified organic, creamed honey or specialty honey such as buckwheat. These prices are in Canadian dollars.
United Kingdom – £2.70 to £4.30 per 100 grams or £20 to £26 per kg. You can demand a higher price for non GMO certified organic, creamed honey or specialty honey. These prices are in Pound sterling.
Australia – $1.70 to $2.40 per 100 grams or $17 to $26 per kg. You can demand a higher price for non GMO certified organic, creamed honey or specialty honey. These prices are in Australian dollars.
The price ranges I've listed above are based on the average retail prices demanded across a wide number of regions in each Country. They are very realistic price ranges but please keep in mind these are only estimates and I urge you to double check the pricing being demanded in your local region.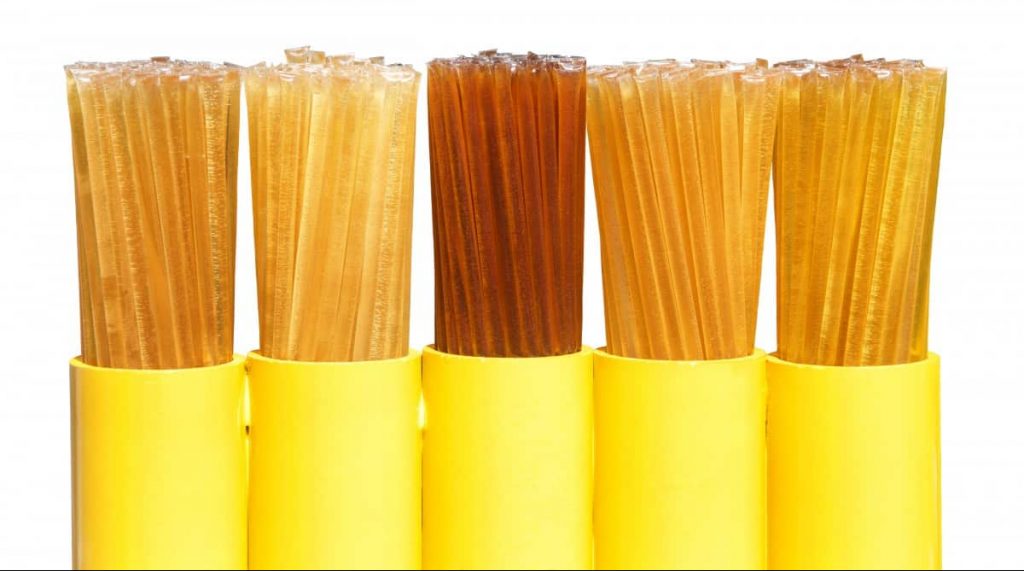 Many beekeepers will also sell honey sticks, a very popular and simple method to demand a little higher price for your honey. Honey sticks are sold in a wide variety of flavors such as: ginger, cinnamon, green apple, vanilla, lemon, watermelon, peach, and blackberry.
Another way to differentiate yourself from your local competition is to sell honey butter, creamed honey, and creamed cinnamon honey for example. All of which will sell for a higher price then just your raw honey.
You mustn't forget some of your packaging expenses such as the cost of your jars, lids, and labelling. Not to mention marketing costs such as local farmer markets, flea markets, agricultural fairs, and online sales.
And if you're interested in other income streams from your hives, hold up for just a minute, I wrote a simple guide on how many beehives it takes to make a living I encourage you to read!
Correct labelling of your honey is so important since consumers are increasingly concerned with the safety and source of their food, including honey. Being a fully transparent seller, whom is confident in their product, will only strengthen consumer confidence and word of mouth about the quality of your honey and brand.
How To Correctly Label Raw Honey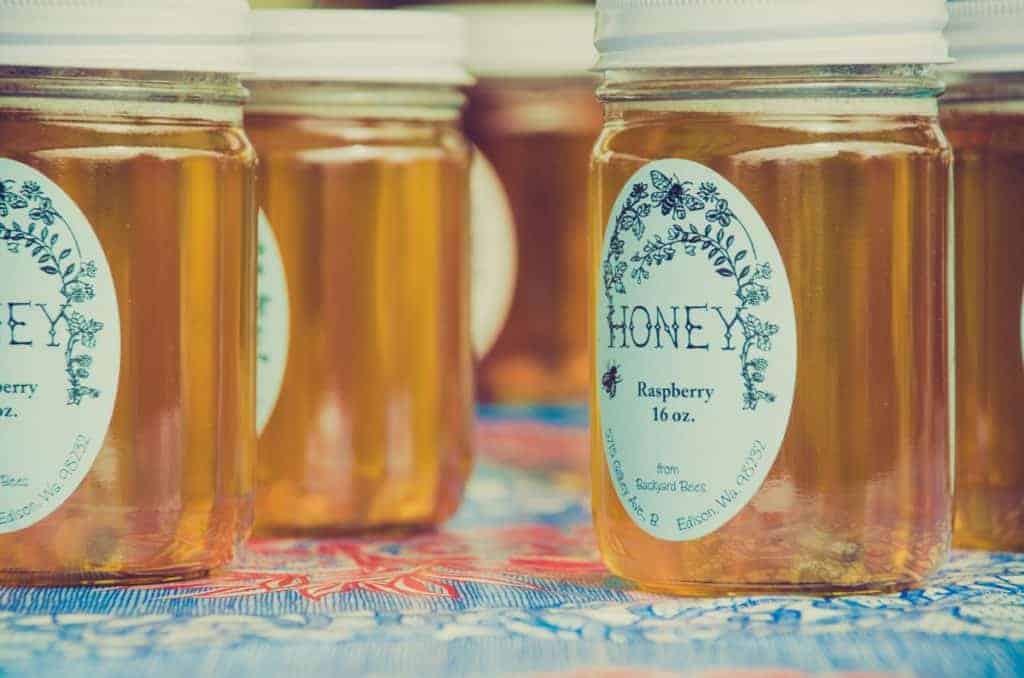 All honey sold to consumers needs to be correctly labelled and adhere to your federal, state or province, and local laws and regulations for the labelling and sale of honey.
Labelling will vary depending on your region but here are some of the most common requirements for your labels:
Common name – labelled as just "Honey" or "Raw Honey", or "Pure Honey" etc. It is important to understand the difference between Raw and Pure honey.
Raw honey is pure honey that has not been heated to the point of pasteurization and preserves the benefits of naturally occurring enzymes, vitamins and minerals, and personally I find it tastes much better than pasteurized honey.
Pure honey is 100% pasteurized honey. The pasteurization process varies by region regarding the temperature used, usually between 65°C (150°F) to 71°C (160°F).
Floral sources – the name of the plant or blossom the honey was made from. Such as wildflower, clover, sunflower, canola, etc.
Net weight
Ingredients – if the honey contains any other ingredients such as spices or flavoring.
Country of origin
Contact Information – manufacturer, packer, or distributor's name and address, website, etc
Warning Labels – some regions require this indicating that honey is not safe for infants to consume.
Nutrition Facts – some producers will include this as part of their label, but most regions don't require these.
Your local beekeeping association and local beekeepers are a great resource to ensure you are following all local laws and regulations.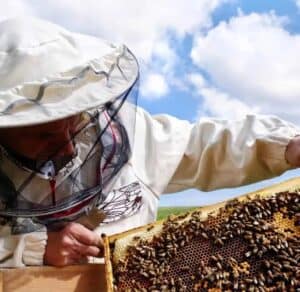 My goal is to show that anyone can take up beekeeping and it can be a very rewarding hobby. I strive to share my experiences and answer any questions you may have.